The Best Bottom Freezer Refrigerator for 2023
Elevate your kitchen to a higher level of style and convenience, and enjoy lots of cold storage with these bottom freezer refrigerators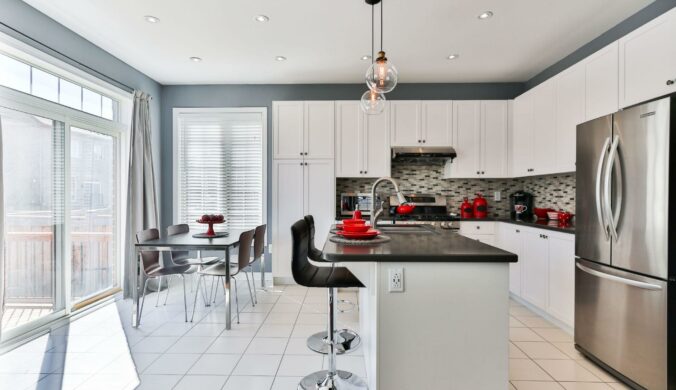 Are you looking to upgrade your current refrigerator? Or maybe you are simply looking for more cold storage for your home. Whatever the case, a bottom freezer refrigerator is a great option.
We spent a lot of time researching the best bottom freezer refrigerators in the market. After comparing more than 20 options, we found the top four that met our criteria. Read on to find out our top picks and why they stood out.
How We Picked
Size

You'll need to select the right size depending on how much you plan to store in your fridge. Also, the amount of space you have will determine the size of the bottom freezer refrigerator you choose.

Temperature Uniformity and Thermostat Control

Having a refrigerator that doesn't provide uniform temperature can cause the food to spoil and a lot of frost and ice. Also, being able to control the refrigerating and freezing temperature ensures you can select the ideal temperature for the items you store.

Ease of Use

Having to search for the manual every time you want to change a setting or move your refrigerator is not ideal. An easy-to-use bottom freezer refrigerator is more convenient.

Cost-Effectiveness

High, mid, and low-priced refrigerators all have their top features and cons. Factoring in your budget ensures you can find the best bottom freezer refrigerator in your price range.
Our Top Picks
Our Top Pick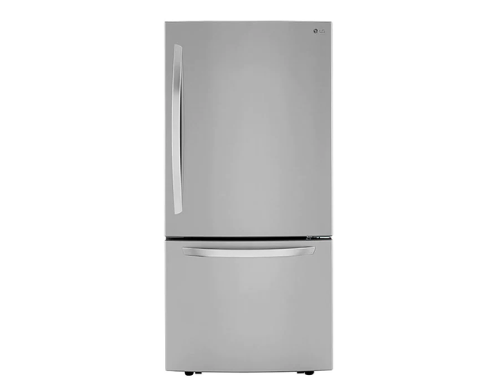 A sleek and aesthetic large-capacity fridge with efficient cooling technology.
The LG LRDCS2603S is a large fridge with a big freezer drawer that allows you to store as many items as you need. It is Wi-Fi enabled and the cooling vents ensure the contents at the door stay cold even when you open it. The factory-installed ice maker is perfect for those who enjoy having a constant supply of ice.
An aesthetic option with a temperature uniformity control that keeps the temperature even in the places that warm up fast when you open the door.

Our Runner-Up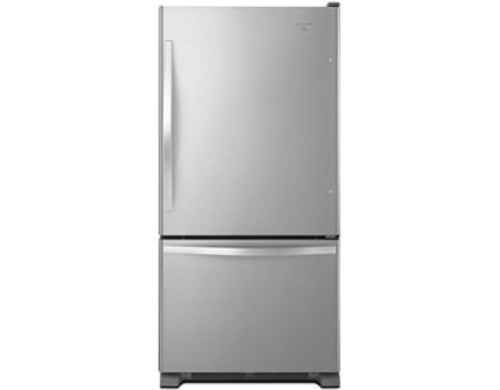 A two-tiered, mid-capacity fridge with efficient energy use.
Whirlpool offers great service across the USA for all its fridges. This one in particular has smart temperature control and uniformity features to help you keep your food fresh. It also helps you save energy. This fridge is mid to mid-large capacity and perfect for storing both fresh and frozen items.
This is a reliable two-tiered bottom-freezer refrigerator with a high-quality ice maker.
Most Cost-Effective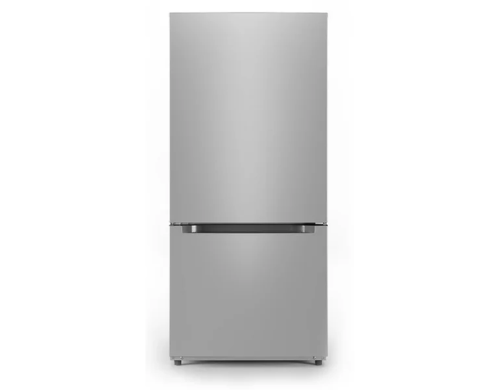 A small-capacity but full-sized budget-friendly fridge.
Midea's MRB19B7AST is a full-sized but affordable bottom-freezer fridge. The freezer compartment has a pull-out basket for easy organizing. The LED lights make it easy to see what is in your fridge. This fridge is also energy-star certified meaning it is more energy efficient than standard fridges.
This is a full-size but smaller capacity, energy-efficient, and affordable bottom-freezer refrigerator.
Everything We Recommend
Our Top Pick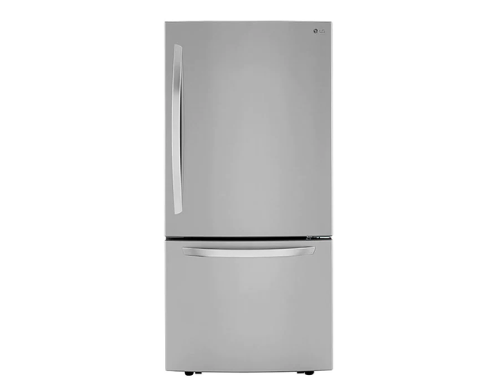 A sleek and aesthetic large-capacity fridge with efficient cooling technology.
Our Runner-Up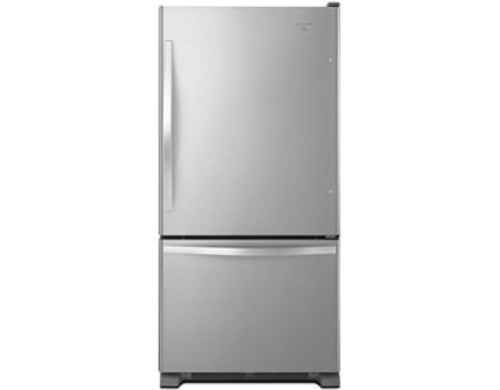 A two-tiered, mid-capacity fridge with efficient energy use.
Most Cost-Effective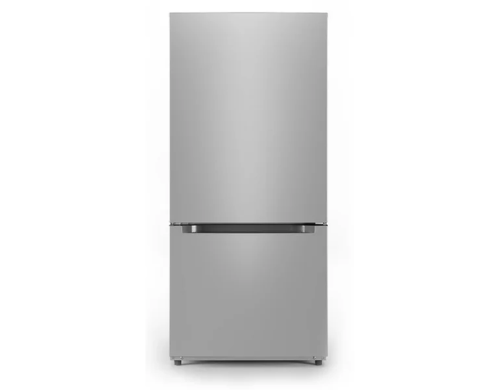 A small-capacity but full-sized budget-friendly fridge.
Who This Is For
Our curated list of the best bottom freezer refrigerators is for anyone who is looking to elevate their cold storage options. Whether you're upgrading your kitchen and want a new fridge to match or you want to upgrade your current fridge to get more storage, this list is for you.
Bottom freezers vs french door/top – what's preferred?
If you're looking to buy a new fridge, you may wonder what's the difference between the bottom freezers, top freezers, and french door options. We researched for you and here is what we found.
French door refrigerators are popular because they offer a sleek and streamlined look. They also have a bottom freezer. They are more energy efficient than single-door or side-by-side fridges because you can independently open the fridge and freezer sections.
On the other hand, bottom freezer refrigerators are convenient for accessing fridge items. They have the freezer at the bottom as a pullout drawer compartment. This can also translate to better energy efficiency than traditional single-door fridges. Bottom-freezer fridges offer more freezer storage space than single-door or top-freezer but not as much as side-by-side.
Top freezer refrigerators have a freezer compartment at the top. You open the freezer section independently if it's a two-door top freezer fridge but single-door ones offer no separation. With the freezer at the top, you have to bend to get regular fridge items. Single-door fridges are less energy efficient but side-by-side ones are energy efficient.
Are these more reliable?
Bottom-freezer refrigerators are simpler and more reliable than french-door fridges. They received an excellent rating from consumers as opposed to the good rating given to french-door ones.
Are these more affordable or cost less to run?
The cost of bottom-freezer refrigerators depends on the size and model you choose. They cost comparatively the same as french-door fridges. However, they are generally more expensive than top freezers and side-by-side.
A report from the U.S. Department of Energy indicated that bottom-freezer refrigerators use 10-25% more energy than top-door freezers and thus cost more to run. They however cost relatively the same as french-door fridges.
Why You Should Trust Us
We know how hard it is to pick a new kitchen appliance like a refrigerator. As you're dropping a large amount of cash, you want to ensure you're picking the best option available. We also know that you want to get value for your money and purchase a refrigerator that will last.
Like you, our team is all about informed and smart purchases. It's why we took the time to research and compare the bottom freezer refrigerators available. We want you to have all the information and also the best options to help you save time and money.
How We Picked
Here are the criteria we used to pick our top options:
Size
We looked for bottom freezer refrigerators of various sizes to fit different spaces and needs. While bottom freezer refrigerators tend to be larger than top freezer ones, you can find both relatively small and very large ones. We wanted options for those with limited space in their kitchens and those with more space.
Capacity
Everyone has different capacity needs when they are looking to buy a refrigerator. We wanted to offer options for those who need to store more and those looking to store less.
Warranty
A refrigerator is a big and pricey purchase, whatever budget range you fall in. A warranty is crucial to give you peace of mind and to ensure you can replace anything faulty upon purchase. This is why we only considered bottom freezer refrigerators with a matching warranty. We matched the size and quality with the warranty period to pick the best ones.
Design/style
Style and design are personal so we looked for various options. Ideally, we wanted bottom freezer refrigerators with neutral designs that allowed you the freedom to customize and personalize. However, we also considered unique styles as long as the refrigerator met the rest of our criteria.
Temp uniformity
Uniform temperature is crucial in a refrigerator. It ensures that your food freezes and cools to the same degree without variations. This keeps food fresh and safe and keeps frost and ice from forming. It's why we only considered bottom freezer refrigerators that were reviewed to have temperature uniformity.
Thermostat controls
Having the ability to change the temperature of your freezer section, fridge or even cold box makes the refrigerator more convenient. It can also help decrease energy consumption. This is why we favored bottom-freezer refrigerators with thermostat controls.
Price
We looked for the best bottom freezer refrigerator options within different price ranges. Everyone has a different budget and we wanted to give an option that met our criteria at various price points.
Ease of use/Convenience
Using your refrigerator should be convenient and easy. Having to constantly Google or call customer service to figure out settings, buttons, or storage is neither easy nor convenient. We wanted the options we shared in this list to be as easy to use and convenient as possible.
Care and Maintenance
To ensure you can use your bottom freezer refrigerator, it's paramount that you properly care for and maintain it. Here are a few tips to help you get started:
How to clean
Most fridges come with a manual that has a section on cleaning. However, here are the general steps to follow when you want to clean your fridge:
Turn off your fridge and unplug it from the power source
Take out every item from the fridge, separating freezer and fridge items. You can place them in kitchen bowls, especially those prone to leaking
Remove all shelves and storage bins
Get a bowl with warm water and some dish soap. Water should be soapy but not foamy. You can also use an appliance cleaning solution if you have it
Get a clean microfiber cloth and dip it in the bowl. If using a cleaner, spray directly on the surfaces and wipe with a cloth
Ensure you clean every part inside the fridge, changing the water if it gets too dirty
If there are any tough stains, use a brush or scouring pad and then follow with the cloth
Wipe the outside of the fridge including the handle, top, and even back if possible.
If you notice you used too much soap in the water, get a bowl of clean warm water and a new cloth and wipe down every surface again
Hand wash the shelves and storage bins with dish soap and water. Place them on a rack to dry or use a clean cloth to dry them
Put back the shelves and storage bins
Start putting back all items, and wiping down any containers before you place them in the refrigerator
Close the refrigerator door and ensure there is no moisture near the outlet or power cord.
Plug the cord and turn on the power.
Where to display fridge
You can display your refrigerator anywhere you like. Most modern houses have a section in the kitchen for the fridge. You can measure the area and buy a fridge that fits. If your house does not have a designated fridge area, you play around with where you display it. However, ensure you don't block the exit or place it too near to the cooker.
When and what to check for maintenance
You should try and do detailed maintenance on your refrigerator every three months.
Check that the seal is not loose and if it is replace it or re-magnetize the embedded magnets. Clean the coils to keep them free of dust and debris. Check that the gasket is not loose to ensure your fridge seals shut properly. Also, check the manufacturer's instructions on how and when to replace filters.