The Best Bluetooth Headphone Adapter for 2023
Find the best Bluetooth headphone adapter to support all your entertainment needs, and turn any wired item into a handy wireless one!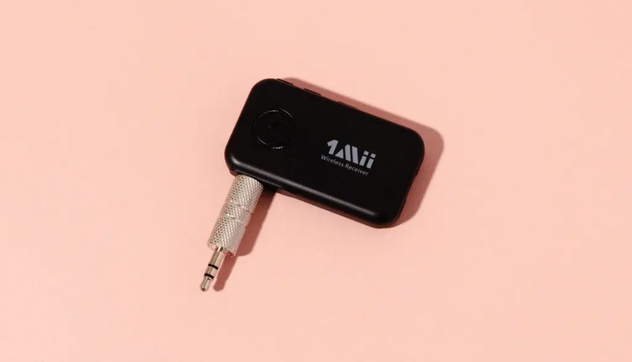 Bluetooth connectivity requires both hardware and software. If your devices have a headphone jack but no Bluetooth capability and you want to enjoy music over your headphones, all you need is a Bluetooth headphone adapter.
It may not be easy to choose the best Bluetooth headphone adapter. Instead of wasting time skimming through Bluetooth headphone adapter search results, you need to take a smarter and more proactive approach. Typically, the adapter is a straightforward plug-and-play device. Let's look at the top Bluetooth headphone adapters on the market and how to pick the ideal one.
How We Picked
Up-to-Date Technology

Our collection has the latest Bluetooth 5.0 technology. This makes connectivity easy. With the most recent Bluetooth technology, you can connect to almost every Bluetooth device on the first try.


Adapter Type and Size

The majority of the Bluetooth headphone adapters on our list, at least, don't exceed three inches in size. However, a few unique adapters can be longer. They are extremely portable due to these qualities.

Efficiency

We test crucial characteristics like Bluetooth range, microphone quality, simple pairing and unpairing, and most importantly, output power and latency, to determine efficiency.

Cost-Effectiveness

There are several factors to weigh when purchasing the best Bluetooth headphone adapter. Our picks accommodate a reasonable range of budgets to suit a variety of preferences.
Who This Is For
A Bluetooth headphone converter is the simplest, most economical choice if you love your wired headphones and want to be able to use them wirelessly. You can keep your phone or tablet safely tucked away in a pocket, bag, or charging across the room. With the help of an adapter that receives audio signal from your device, you can control playback. Besides, you can take and make calls.
What is a Bluetooth headphone adapter?
The simplest and most affordable way to wirelessly connect wired headphones to a Bluetooth device without a socket is with a Bluetooth headphone adapter. We're confident that everyone has at least one set of wired earphones, speakers, or headphones that they purchased years ago. The wires disrupt our lives, yet the gadgets continue to operate flawlessly. Due to the invention of adapters, you may now save a lot of money while utilizing your preferred devices. Some of them perform the functions of receivers while others perform the functions of transmitters, and a few of them may perform both.
Do I need an adapter?
If you aren't wedded to your wired headphones, it would probably be best for you to just purchase the best Bluetooth headphones. Most Bluetooth headphones offer superior microphones, easier-to-use controls, and maybe even mobile apps. You would carry one fewer device around, at the very least.
However, Bluetooth headphone adapters make it simple to switch from wired to wireless headphones. However, not all of them offer the same level of audio quality. The Bluetooth codecs and the Bluetooth version will determine the sound quality. You require a Bluetooth adapter that supports advanced Bluetooth audio codecs like aptX, aptX LL, aptX HD, aptX Adaptive, and/or LDAC. This is in addition to basic Bluetooth audio codecs like SBC and AAC for the greatest listening experience possible.
Why You Should Trust Us
National Today takes great pleasure in working with reliable independent contractors that have years of experience writing on lifestyle subjects and product reviews. Our top finalists were put to the test for overall power and durability. We have experience analyzing equipment and can measure the quality of devices such as Bluetooth headphone adapters. We use professional-level approaches to obtain more extensive and accurate data to ensure the success of our picks.
How We Picked
Up-to-date technology
We always advise spending money on the best Bluetooth headphone adapter with a built-in microphone (most do!). This will enable you to take phone calls without having to take off your headphones. Furthermore, the adapter must support Bluetooth 5.0 for modern wireless communication (and higher). You can rely on a strong, latency-free connection for many years to come because of this functionality's built-in resilience.
Adapter type/size
If you want to utilize your headphones (and adapter) to stream television or any other video content, AptX LL is the most crucial codec to have. If you wish to listen to music with the finest sound quality available, aptX HD is a good option. Although Bluetooth headphone adapters come in a variety of sizes and shapes (square, circular, etc.), one of their key features is portability. This is why our recommendations are so compact and light.
Compatibility/Connectivity
If the connection is challenging to establish and maintain, wireless music listening is not very convenient. The best Bluetooth headphone adapter should be easy to pair with your device. The connection should be solid enough to play audio without frequent skips and pauses, even if you have to cross the room while wearing your headphones or the source device is charging across the room. The majority of the adapters we tested could connect wirelessly, so we looked at how simple it was to switch between the two devices. We also noted which devices provided useful visible or audible signs for Bluetooth pairing, connection, and disconnection.
Efficiency
To power your wired headphones, Bluetooth headphone adapters pair a Bluetooth receiver with an amplifier. Each of our top choices had an output power that we measured, and let's just say that it was significantly lower than any of the more expensive portable headphone amplifiers we suggested. Higher-end audiophile headphones have low sensitivity ratings (below 98 dB) or high impedance ratings (over 100 ohms) and require more power to reach comfortable volume levels. As such, they are not a great match for these economical Bluetooth adapters. Instead, they should be able to power basic earphones and headphones that are not difficult to drive.
Price vs. quality
The best, least expensive, and most highly rated adapters currently on the market are those we recommend, so you can't ignore them. The cost differences are hardly noticeable, and the budget is not large. Some are a little pricier. They occasionally include features that make the added expense justifiable. However, in most cases, you won't need to spend a lot of cash to have your headphones set up and functioning with some of your older equipment.
Style/Design
Simple controls are essential as none of these Bluetooth audio receivers allow you to utilize the integrated remote while wearing headphones. We assessed the buttons' size, placement, and sensitivity, as well as whether or not they effectively operated our gadgets. We appreciate the inclusion of these adapters, even if many do not have an actual on/off switch.
Battery life
The battery shouldn't run out on you every few hours and require charging. Instead, you want one that can deliver uninterrupted listening for somewhere between 10 and 24 hours. We tested the battery life of each of our finalists by connecting them to a MacBook Pro and playing music continuously through iTunes until the battery died.
Ease of use
Compared to a connected connection, streaming audio through Bluetooth adds latency. When streaming from apps like Netflix or YouTube on your phone, too much latency causes lip-sync issues, where the audio does not match the video. We, therefore, assessed the latency of our top contenders.
Sound quality
We instantly disregarded any adaptor that audibly altered the quality because the best Bluetooth audio receiver should ideally sound as good as a direct, connected connection. The sound quality of a receiver depends on its internal digital-to-analog converter (DAC), additional audio circuits, and the audio codecs it supports. We infer that these cheap headphone adapters only support the basic SBC codec because many of them, regrettably, don't state which Bluetooth codecs they support in their specifications.
Care and Maintenance
Connecting your adapter to your device
You don't need cables for Bluetooth headphones. So it makes sense if you're having issues syncing your Bluetooth headphones with your smartphone or PC. However, connecting your headphones to any device is simple. Prior to starting, ensure that your computer's audio volume is appropriate, your headphones and device are no further than three feet apart, and that both devices have enough charge.
You only need to click Settings and navigate to the Bluetooth section on any device. The solution is always a few toggles on and off here and there. You won't need to press the Scan button once you've synced your headphones for the first time. Your headphones will appear in the list of Bluetooth devices once they are on and in pairing mode.
Using your Bluetooth headphone adapter
The compact Bluetooth adapters we discuss in this article are a wonderful option for usage in a vehicle, allowing you to stream music from your smartphone to an older car stereo without Bluetooth. However, for this arrangement to function, your car's sound system needs to have auxiliary audio (3.5 mm) input. In a different tutorial, we discuss several varieties of Bluetooth car kits.
How to prevent connectivity issues
Narrow down the issue first. Before you start fiddling with settings and clicking buttons, try to identify the problem's root cause. It might be your phone or even the music-playing app you're using. Check the manual if the issue still exists. When you initially use several headphones, pairing mode is activated automatically. As a result, most users have no trouble pairing headphones the first time, but the second time they struggle. Therefore, if your headphones aren't showing up with a new device, you might need to look up how to pair them in that guidebook. There are a few steps to also consider in different scenarios:
 Disconnect other devices.
Disconnect other headphones.
Make sure both devices are compatible.
Recharge the battery.