The Best Blue-Light-Blocking Glasses for 2023
Rock these stunning blue-light-blocking glasses and protect your eyes from the bluer side of the light spectrum.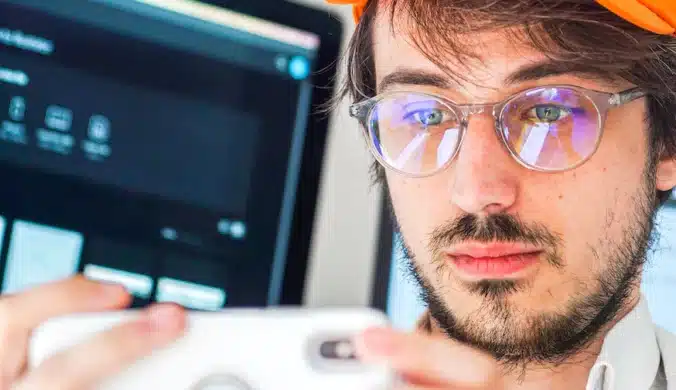 We spend more and more time staring at electronic devices as time goes by. Every time we wake up, the first thing we'll do is, check our phones to see the time, the weather forecast, email, and also our social media notifications. From day to night, we're constantly being exposed to blue light coming from our devices, including mobile phones, laptops, TVs, tablets, or even LED lighting.
The low-energy blue light emitted from screens and phones may not seem like much. But you would be surprised how it affects the body over time. Blue light is a shortwave in the light spectrum that has a wavelength of roughly 400-500 nanometers. The peak light damage occurs at around 440 nm. Blue-light-blocking glasses protect our eyes from the flickering and glaring of the digital screen which can cause headaches, eye strain, poor sleep quality, and even retinal damage. Here, we've found you the best picks for blue-light-blocking glasses so you can protect your eyes while still in style!
How We Picked
Type Of Frame

Your blue-light-blocking eyewear should have a frame that fits the contours of your face because it'll give you more self-assurance while keeping your eyes safe. Additionally, you can select from a variety of frame designs to suit your unique taste.

Sturdy

Glasses tend to be super delicate and easily breakable. As such, it's important to pick a sturdy pair that can stand up to regular use and abuse. Besides, you need sturdy glasses so you can wear them for a decent length of time without needing a replacement.

Comfortable

Your glasses' general design and construction have an impact on their comfort. It's crucial to choose the proper fit that suits your face perfectly. Additionally, since you'll be wearing them for the majority of the day, you don't want a pair that is too hefty.

Price

Blue-light-blocking eyewear is typically reasonably priced. But you don't want to choose a flimsy one that won't hold up. It's important to Invest in a good pair that will effectively safeguard your eyes.
Our Top Picks
Best Pick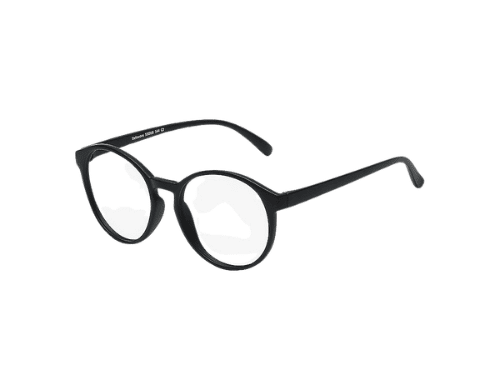 These glasses in matte black are both stylish and sturdy.
These round-framed glasses offer a high-quality blue-light blocking lens and they can be purchased with or without a prescription.
The Delaware Blue-light-blocking glasses use Slight Relax lenses. Besides filtering blue light, they can also enhance your reading, repel water, and resist smudges. These glasses can be purchased with or without a prescription. The frame is a stunning matte black and perfectly rounded.
Runner Up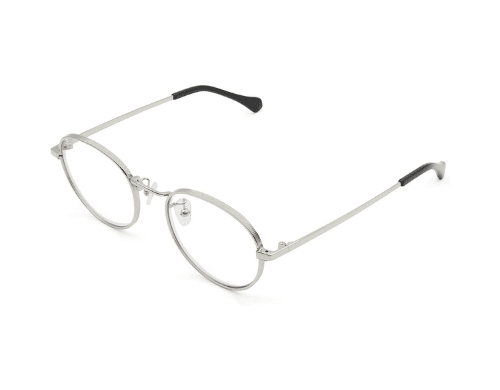 The Hamilton glasses are a great pick for a minimalistic and timeless look.
These metal round-framed glasses have an elegant design and they can block a decent amount of blue light.
These Felix Gray – Hamilton Blue Light Blocking Computer Glasses have a sleek style with blue light protection to filter harmful blue light. They can block up to 50% of blue light. The anti-glare lenses minimize distortion and make clear vision. The stylish aluminum clear blue-light blocking glasses come in a silver round shape.
Most Cost-Effective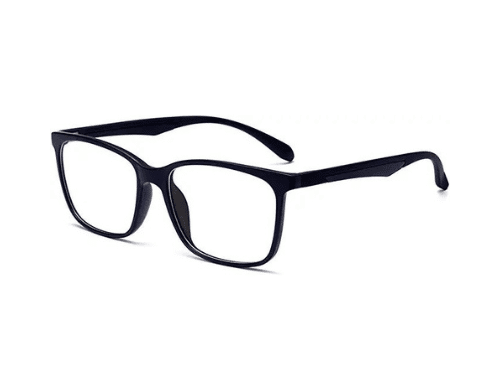 These are the most cost-effective and widely purchased computer glasses.
These polycarbonate rectangle glasses are light and can be worn for extended periods.
The Anrri Blue-light-blocking glasses reduce eyestrain, eye fatigue, headaches, and blurred vision due to digital screens. It can also reduce eye strain and headaches for a restful deeper sleep. These glasses block 90% of blue light so they can relieve eye fatigue, dryness, and vision falling. The lens is made from polycarbonate (non-magnification) and the frame is in the color black.
Everything We Recommend
Best Pick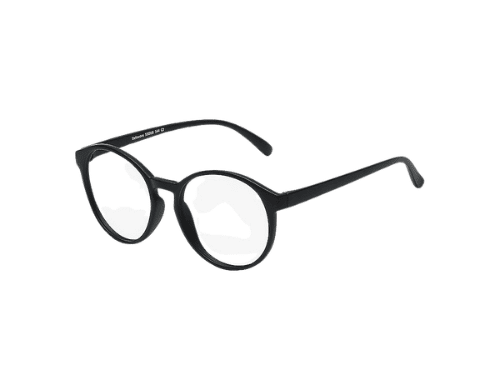 These glasses in matte black are both stylish and sturdy.
Runner Up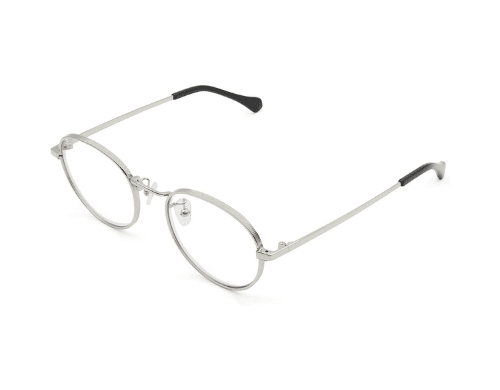 The Hamilton glasses are a great pick for a minimalistic and timeless look.
$110.00
Most Cost-Effective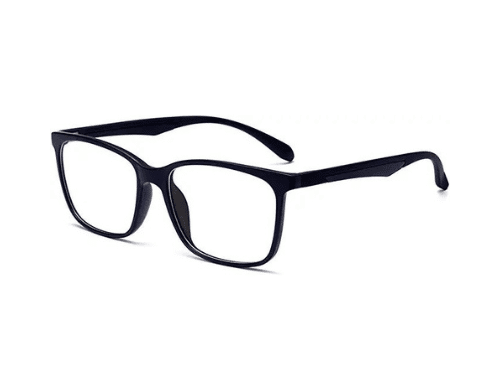 These are the most cost-effective and widely purchased computer glasses.
Who This Is For
This product is for people who want to protect their eyes from blue-light exposure. Blue-light-blocking glasses can be worn any time especially when you're in front of a desktop monitor or laptop computer. We also recommend wearing blue light glasses when using your mobile devices such as a smartphone and a tablet.
Blue-Light vs Computer Glasses
Though it's the main issue, blue light is not the only culprit when it comes to eye strain and
damage. Blue and turquoise light between 400-495 nanometers wavelength that was emitted from the screen can damage our eyes. The reason is that this wavelength carries more energy than the rest, so it strains our eyes to a greater extent and causes all the aforementioned issues.
When it comes to blue-light glasses, there are two types of them, daytime and night-time glasses. Daytime blue-light glasses are clear and considered computer glasses sometimes. The night-time blue-light glasses are tinted. They can be red, orange, or amber. Night-time glasses filter out the entire blue light spectrum so they can protect your eyes and affects your ability to fall and stay asleep even better. You can wear clear daytime glasses day and night and while sitting in front of a display, they usually don't block the entire blue light.
The differences between blue-light glasses and computer glasses lie in the time they're worn and the features they offer. Blue-light glasses are used during the day and night while computer glasses are worn at the opposite time. Blue-light glasses only have one feature of blue light protection, while computer glasses have more features such as anti-glare coating, slight magnification, and decentered pupillary distance. So, we can eventually conclude that all computer glasses are blue light glasses.
Are They Effective?
Blue-light-blocking glasses have filters in their lenses. The filters can reduce, block or absorb blue light so it can prevent retina exposure to this type of light. This type of glasses can minimize the side effects of prolonged screen use such as insomnia, headaches, and digital eye strain. They can help your eyes from blue light rays emitted by digital screens.
Is It Worth Splurging On?
It's not going to damage your eyes if you wear blue-light-blocking glasses every day all day long. It's helping to protect your eyes from blue light. If you want to ensure that the glasses come with blue-light-blocking sunglasses, you can purchase them from a reputable brand.
Why You Should Trust Us
We've been searching and digging through experts' opinions and people's experience reviews. We've come to a conclusion about the importance of finding the best deal of blue-light blocking glasses. Our team has spent more than ten hours to finally pick the best choices for you, so you can choose the best blue-light-blocking glasses from four different price ranges.
How We Picked
Type Of Frame
The type of frame is important because it's affecting your eyes look and face. If you're someone who is concerned about having glasses to enhance your look and confidence, choosing a glasses frame is so important. There is some type of frame that'll make you look nerdier if it doesn't suit your face. For example, don't wear round frame glasses with thick rims if you have a round face.
Sturdy
The material of your glasses must be sturdy and durable. It won't break when it accidentally falls. Plastic is our preference to choose in glasses frame material because of its durability. It's also widely used and has been tested for years by customers. We also need our lenses to be anti-glare and anti-scratches to make your blue-light-blocking glasses stay for a long-time.
Comfortable
The material of the frame affects the heaviness and comfortable. Most-used material for glasses is plastic. When you choose blue-light-blocking glasses, the color tint of the lenses also needs to be considered, because you'll wear your glasses for up to 10 hours of screen time, so you need clear lenses to make you feel comfortable reading and scrolling down your digital screen all day every day.
Effective
When we're going to buy blue-light blocking glasses, we need to answer questions about what wavelength of light those lenses are going to be protecting you from and what color of lenses you're going to be getting because some people don't like lenses that have kind of a yellow or orange tint to them just because of how they look on their face. When we're talking about wavelengths of light from about 380 nanometers of light up to 500 nanometers of light. If we were to cut that in half, the first 380 to 450 nanometers, that is called the high-energy visible blue wavelengths of light, that's the blue wavelength of light that we see is the color blue. However, it is high-energy and has been found in studies to have increased metabolic demand on the retinal cells of the back of the eye.
There are some theories that it could cause retinal damage but that is extremely debated amongst eye care professionals and scientists. As far as the 450 to 500 nanometers of light range that has been found in studies that most significantly impact our sleep cycle. Although all visible wavelengths of light – any light you're able to see – do affect your melatonin production, that's the sleeping hormone that's produced by the pineal gland in your brain that affects your sleep cycles. The blue wavelengths of light from about 450 nanometers to about 480 nanometers of light are the peak intensities that mostly affect our sleep cycles. It just happens that the peak intensity of blue emitted by your computer screen and your cell phone is also around 455 nanometers of light.
The second thing to keep in mind is what color the lenses are going to be in general. The darker, yellow or potentially amber the lenses become, the more protection you're going to have in that sleep cycle range. However, there are some products out there that have a patent on them that gives you that extra protection without really changing the lens color. Based on the tinted color lenses, red-tinted lenses block the most light but are rarely worn as they make it difficult to see. Followed by orange-tinted lenses, amber-tinted lenses, and clear lenses. We recommend choosing clear lenses for everyday usage.
Size
The size of the frame and lenses can be also considered based on your preference. Some people like to have bigger lenses, but also people who prefer to wear small lenses. It's up to you and you're free to choose. But we prefer to choose bigger lenses because they're in trend right now and more timeless.
Design/Style
There are so many designs and styles of blue-light-blocking glasses on the market. If you want trendy glasses without worrying about an expensive budget, we recommend buying designer glasses. But don't worry, we also have the most cost-effective choice that fits your budget.
Price
Finding good blue light-blocking glasses can be challenging, so we're going to help you find blue-light-blocking glasses for every single budget, from the low-end ones that you find in some place like Amazon, all the way to the higher-end ones that you find in the optical.
Care and Maintenance
You can use a microfiber cloth to wipe out your lenses and a cleaning solution that states safe for polycarbonate lenses or you also can use lotion-free dish soap. First, make sure your hands are clean after washing so you're not going to transfer any germs to your glasses. Get rid of dust or other things with warm water or use distilled water instead. After the dust is removed, wipe your glasses down with your microfiber cloth and spray cleaning solution on both sides of your glasses. If you're using dish soap, a single drop on each side is enough. Rub it gently over the lens surface or rinse if you're using dish soap. Dry them by shaking off any excess water droplets or you can also use a gas duster to dry them. Avoid using tissues, the fabric of your shirt, or a paper towel. Instead, use soft lens cloths only because they won't scratch your lens surface. Don't use a product with acetone or nail polish remover because it's really destructive to your lenses and plastic glasses frames.
Store your blue-light blocking glasses in a hinged, hardshell case only, especially if you put it inside your travel bag. The hard shell case can protect your glasses from scratching and smudging. Or you also can use a soft pocket-style case. You can put your glasses in the case at night or place them on a clean stable surface with the lenses facing up and open both sides of the earpieces and place them upside down.