The Best Bird Feeders for 2023
Ensure your little tweeties and critters in your garden never go hungry with these incredible bird feeders!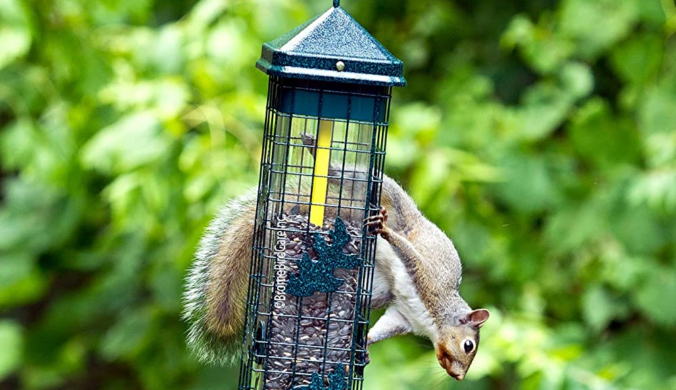 Bird feeders are an excellent way to connect with nature. In many cases, they help birds stay healthy enough to migrate and survive the barren, colder months. Installing one also enables you to assist parent birds in feeding their chicks. You can also install a webcam on bird feeders for the purpose of birding and enjoy watching their fascinating feeding habits.
Different bird species have varying preferences, and a bird feeder's ability to draw in birds depends on both its placement and the types of food it provides. Let's have a look at some functional bird feeders.
How We Picked
Size and Capacity

It's important to find a bird feeder that has the optimal size and capacity. You don't want a feeder that is so big it scares birds away or so small that it barely fits them.

Grate Width and Access

Bird feeder grates should be large enough to allow easy access to the food while remaining small enough to prevent food from falling out. We recommend feeders with a lid and a base to keep the food dry and to drain excess water if it rains.

Weight and Strength

These are important features to consider because bird feeders need to be strong enough to support food stock and the weight of the birds. You also need a robust feeder that can withstand harsh elements throughout the year.

Cost-Effectiveness

Bird feeding is a great activity that doesn't require you to spend a fortune. A good bird feeder should have good value for money.
Our Top Picks
Our Top Pick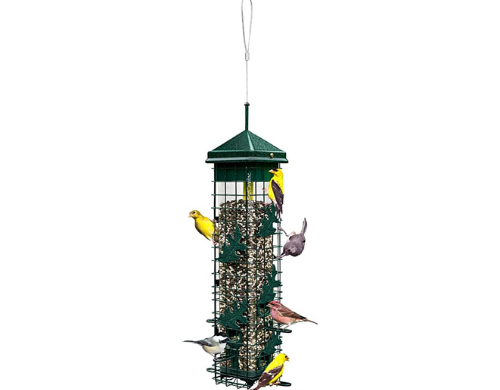 This feeder is ideal for both clinging and perching birds.
The feeding ports and openings in the shroud allow birds to access the food. When a squirrel jumps onto the feeder, the shroud automatically descends, preventing access to the ports. The wire shroud offers a surface area for hanging birds, while the seed ports contain perches for perching birds. As a result, you get more bird traffic and can feed them all.
This feeder may be pricier than others, but it keeps the squirrels away.
Our Runner-Up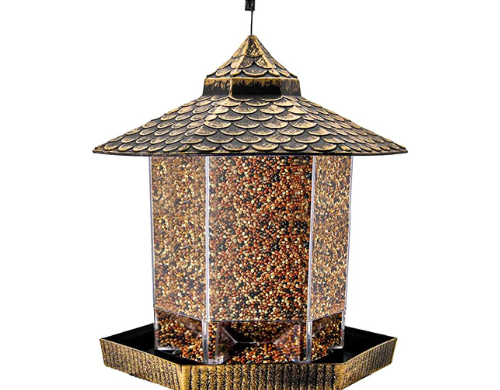 It can hold up to 2.15 pounds of feed for less frequent filling.
This lightweight bird feeder is great for attracting birds in search of food. It gives you the chance to bird watch while they eat on your windows, decks, and terraces. With its hexagon shape and beautiful design, the bird feeder features an inclined roof to shade birds from the sun and rain. Its bronze metal finish is aesthetic, and its design naturally fills the tray once the seeds are eaten.
This bird feeder doubles as a piece of outdoor decor.
Most Cost-Effective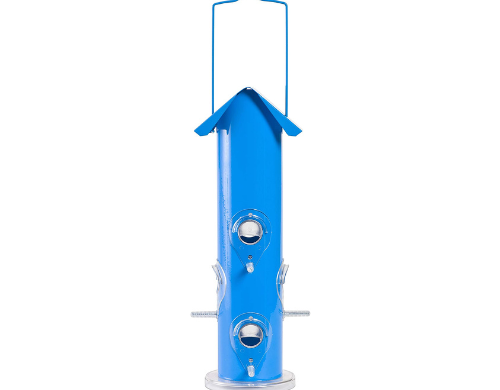 A simple and charming bird feeder that could look great in any backyard.
The Perky-Pet Blue Metal Tube Wild Bird Feeder can add beauty and efficiency to your outdoor areas. This robust metal feeder has a brilliant blue color that will fit well in any backyard. All of your feathered friends can eat with this feeder because it has plenty of space.
It can carry up to one pound of feed, ensuring that your birds never run out of food.
Everything We Recommend
Our Top Pick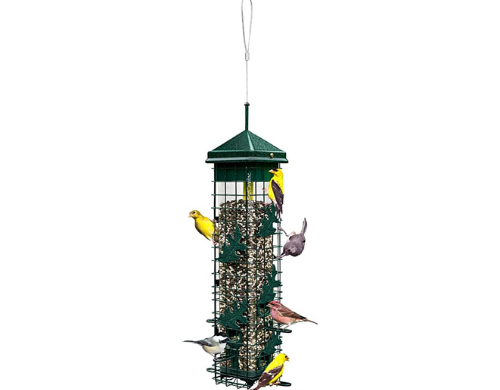 This feeder is ideal for both clinging and perching birds.
$70.35 ($70.35 / Count)
Our Runner-Up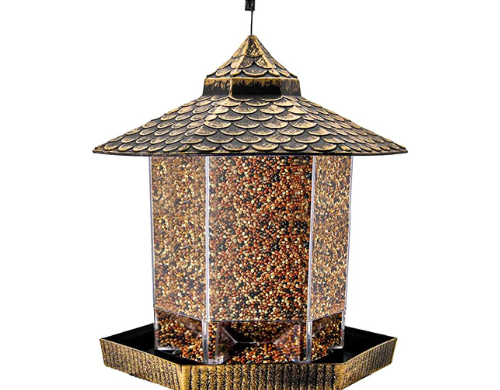 It can hold up to 2.15 pounds of feed for less frequent filling.
$12.58
Most Cost-Effective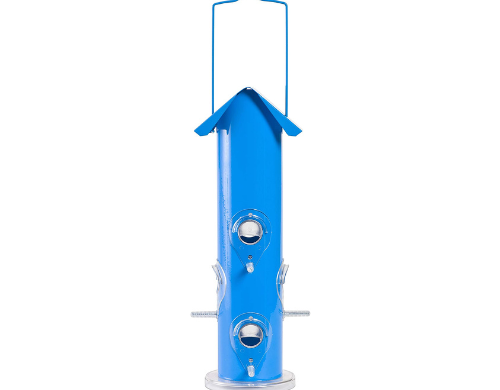 A simple and charming bird feeder that could look great in any backyard.
$15.48
Who This Is For
The products mentioned here are for anyone looking to attract and feed birds from the comfort of their own home.
Different types of bird feeders
Bird feeders vary in terms of their size, shape, purpose, design, and even the location for which they are intended. Tray or platform feeders, hopper or house feeders, window feeders, peanut feeders, tube feeders, ground feeders, etc. are the main types of bird feeders.
How much do birds need to eat
The dietary requirements for each bird depend on their weight. Generally, birds should eat approximately 1/2 to 1/4 of their body weight daily.
Why You Should Trust Us
An efficient bird feeder not only ensures that birds are fed and you get to watch them, it also ensures their safety and comfort. That's why we set out on a search for effective bird feeders that combine the best features and value for money. We considered not only the birds' point of view but that of the feeding individual as well.
How We Picked
We evaluated bird feeders across an assortment of characteristics and quality. The size and capacity of bird feeders were important to consider in order to be able to feed multiple birds at once without having to refill frequently. Free-standing or hanging, heavy or light, strong or delicate – all of these were evaluated thoroughly during the selection.
An important aspect taken into consideration was the quality and material of the bird feeder. We aimed to ensure that we included products that would last a long time and give value for money. Being an outdoor product, whether or not it is waterproof, was also a vital area of testing. Bird feeders with a good grate width and easy access for birds gained bonus points during the list curation.
Care and Maintenance
Bird feeders can be taken care of with a little effort. In order to fill your feeder without making a mess, it's best to fill it up outdoors using a funnel. The frequency of refilling the bird feeder will vary depending on the product. Be mindful of the location where you place the bird feeder and be aware of the weather conditions in your area. Remove and store the feeder in harsh weather conditions. Location will also play a factor in determining whether or not squirrels and other animals can reach it. If you have an intense squirrel problem, you should opt for a squirrel proof feeder.
You can follow the following routine to clean your bird feeder. Dish soap and water should be added to the tub or container in which you soak all the parts of the bird feeder. Use brushes or cloths to scrub the feeder thoroughly and then rinse each component completely. For a deep clean, make a bleach solution by mixing nine parts water to one part bleach in a tub or container. The flour should be rotated and soaked in it for a few minutes. Remove the feeder parts from the bleach solution and give everything a good rinse. Allow the feeder to fully dry before restocking with new food.
Future Reading/Similar Topics