The Best Bike Rack for Apartment for 2023
Are you tight on storage space? Try these practical bike racks for small apartments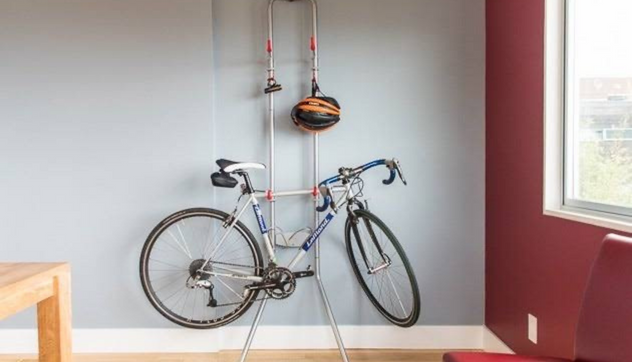 One of the advantages of living in a city is the ease with which you can commute to work and run errands on a bicycle. Bike riding is also as effective as other forms of exercise. However, one major drawback is that many city dwellers have small homes or apartments, making it difficult to store bikes.
You can maximize your limited space by selecting one of the many stylish and practical bike racks for small homes and apartments. These racks can be wall-mounted or collapsed to fit in any small space without cramping it up. Let's look at some fantastic choices.
How We Picked
Size

You don't want to end up with a bike rack that is too big for your space or too small for your bike. Fortunately, the majority of bike racks for small spaces have a compact footprint but can hold larger bikes.


Type of Bike Rack

Bicycle racks come in a variety of designs. The most common types are wall and ceiling-mounted bike racks, along with those that rest on the floor. Each of these serves a distinct purpose and can be incredibly efficient in the right circumstances.

Convenience

Before investing in a bike rack for a small area, think about how often you'll use it, how many bikes you'll be storing, and how convenient it will be for you

Cost-Effectiveness

It is critical to consider how much you are willing to invest in a bike rack and whether you are ready to spend more than the average cost for a premium one.
Our Top Picks
Best Pick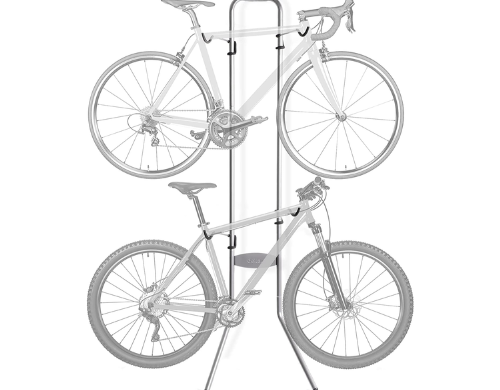 This rack is simple to put together and looks elegant once mounted.
A unique upright bike stand that relies on gravity to support itself is the Delta Cycle Michelangelo Two Bike Gravity Stand. It includes adjustable support arms that match a variety of bike designs and frame shapes and can carry up to two bikes horizontally, one on top of the other.
The Delta Michelangelo 2 rack stores adult or children's bikes without causing damage to the walls.
Runner Up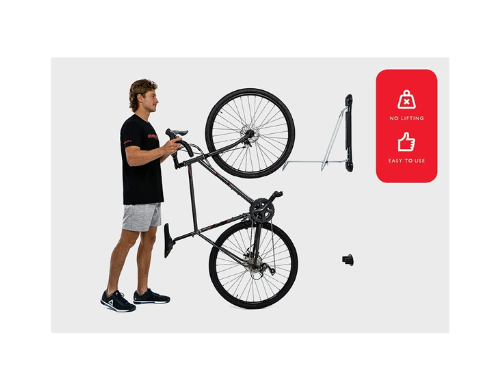 This rack has a small footprint, which is perfect for very small spaces.
An inventive vertical wall-mounted bike rack is the Steadyrack Classic. This rack has an incredibly low profile and folds flat and opens without difficulty when not in use. When mounted at the correct height for your bike, loading it is as easy as tipping the bike over on its back wheel and rolling the front wheel into the wheel tray. Given that only the front tire makes contact with the wheel tray, costly wheels and carbon frames are less likely to sustain damage.
Loading and unloading bikes is a piece of cake with the Steadyrack Classic, which also tilts to the side to save even more storage.
Most cost-effective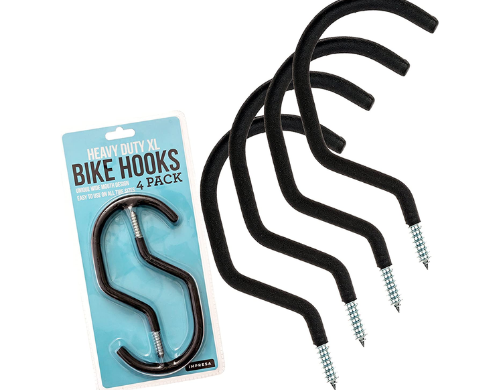 The most straightforward way to hang your bike from a ceiling, indoors or out.
Nothing is simpler or more economical for storing bikes than the traditional bike hanger. Bike hooks like the Impresa Products 4-Pack Bike Hook can help you store up to four bikes for a fraction of the cost of more expensive competitors, despite the fact that they aren't particularly elegant.
One of the most economical ways to store your bikes is with Impresa Products Bike Hooks.
Everything We Recommend
Best Pick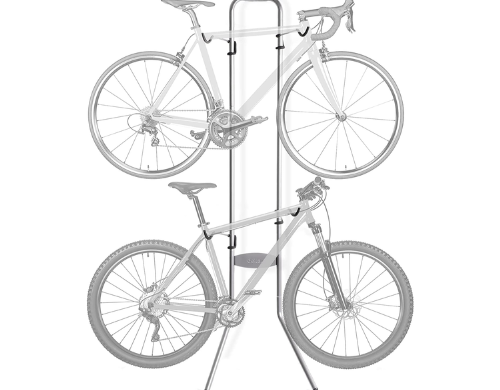 This rack is simple to put together and looks elegant once mounted.
Runner Up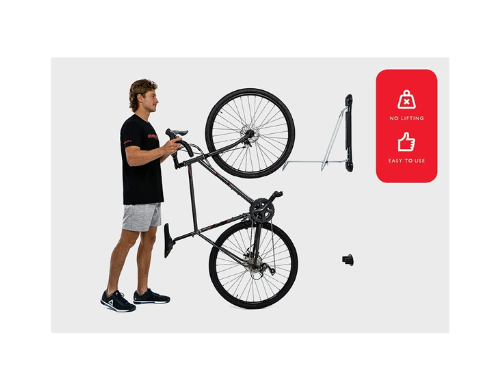 This rack has a small footprint, which is perfect for very small spaces.
Most cost-effective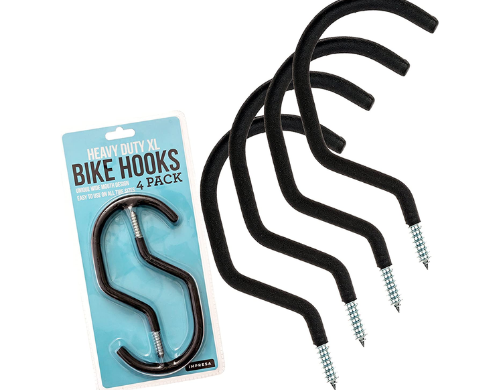 The most straightforward way to hang your bike from a ceiling, indoors or out.
$15.99 ($4.00 / Count)
Who This Is For
It's essential to set up a bike rack in your home if you want to reduce the likelihood of ruining the finer points of your decor. Cyclists will leave their bikes on different surfaces, such as slats, entryways, railings, or stairs whenever there is no rack in sight. Metal cable locks, chain locks, and u-locks will deteriorate a building or property over time. You must, therefore, buy a bike rack that protects your home's structure and frees up space.
Different types of bike racks
For interior use, there are both permanent and temporary bike racks and mounts available. The difference between the two is that mounting permanent racks and mounts requires bolting or screwing, which could be problematic if you are renting. If you have room, you can store a bike on the floor in addition to wall racks and mounts. 
If you have a garage or own your home, permanent bike racks are typically the least expensive option for storing bikes and accessories, and once bolted or screwed in, they require little upkeep. Bicycle racks that aren't fixed to the wall can tilt or buckle against it, doing away with the need to drill into the wall. For grab-and-go riding, free-standing floor racks are the most practical, but sacrificing valuable floor space is not ideal.
Do I need a mount for a bike rack?
The universal mounting hardware found on many of the more recent roof bike mounts allows them to attach to virtually any crossbar on the market. Many bike mounts from earlier models, however, only fit certain kinds of crossbars. Your car must have a trailer hitch to use a hitch mount bike rack; roof and trunk racks do not. It all depends on the make and model of the bike rack you're using.
Why You Should Trust Us
Our goal is to help you get the greatest items and utilize what you already have to the fullest. Following a thorough study of the most well-liked and well-known bike storage choices available on the market, we selected a diverse lineup for side-by-side examination and comparison. Our team of experts carefully examined each product we suggested to help you sort through the chaos and get what you need.
How We Picked
In addition to consulting design blogs and authorities, we browsed listings for bike storage, specialized internet stores, and other websites for house organization. We peruse the reviews left by customers at various online retailers. We also asked the cycling community for feedback on the top options we had chosen, as well as any storage ideas we might have overlooked.
The exact price will depend on where you live and how much space your bike takes up that would otherwise be wasted. Effective storage options share a few characteristics despite the dozen different approaches to indoor bike storage: The components of a well-made indoor bike rack should fit together firmly and be easy to assemble. If it is powerful enough, you should feel confident leaving your bike in its care. It should be flexible enough to support a range of bikes.
The rack should be as unobtrusive as possible while the bike isn't hanging from it. Instead of the drywall or plaster anchors that many of these racks offer, a stud should always be used. The stylish and colorful bike racks hold bikes so close to the wall that handlebars wider than 23 inches won't fit, even with the optional extender kit.
Care and maintenance
The first step in selecting the best bike rack installation technique is determining the installation surface. Depending on the surface, there are numerous installation techniques for attaching the bike rack. The surface mount installation method is ideal for use with already-existing concrete surfaces. This mounting method secures the bike rack to the surface by drilling holes into the already-existing concrete slab and then inserting bike rack anchors into the concrete holes.
Cleaning and maintenance can add several years to the lifespan of your bike rack. Pay close attention to the small details when cleaning the bike racks and remove any dirt from the joints and obscured areas. Like washing your bike, cleaning your rack involves giving it a quick rinse in hot water with soap, followed by a quick towel off, and you're good to go.
To prevent rust, it's a good idea to cover your hitch receiver with a hitch cover. Remember to keep your bike rack fully greased, especially the hinges, grips, and arms, to ensure that it operates as efficiently as possible.