The Best Bike Phone Mount for 2023
These are the top bike phone mounts for your next two-wheeled adventure.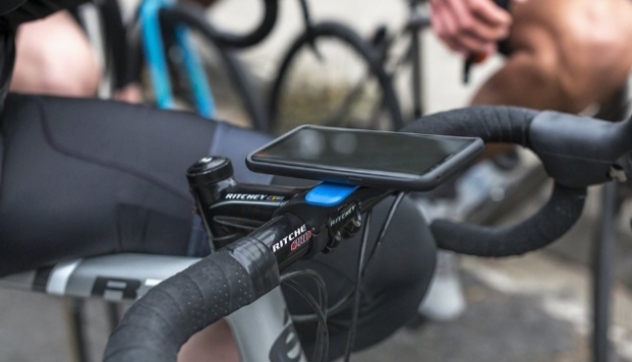 Want to easily access your mobile device while biking or riding? A bike phone mount might just be the accessory for you! Although many cycling garments include easily accessible pouches, they do not provide the same level of convenience as phone mounts.
With a bike phone mount, you can navigate your phone's screen, check your speed, listen to music, and even make a call. Bike phone mounts are typically attached to your bike's handlebars or stem, allowing your smartphone to serve as a mini dashboard display.
If you need a copilot while scooting around town, keep reading because we've lined up the best bike phone mounts for you.
How We Picked
Fit/Security

It is critical to select a mount that can securely hold your phone and accommodate a variety of smartphone brands. Some mounts use a belt system, while others come with powerful magnetic systems that help to secure your phone, especially if you want to embark on tough off-road riding.



Angle/Placement

Some mounts provide a 360-degree rotation. This feature allows you to position your phone in a landscape or portrait view. This is important if you want the option of using apps that work better in landscape or portrait view. Each display mode can be locked by using the one-touch mounting system, depending on the bike mount you opt for.



Size/Weight

Selecting a phone mount that fits any handlebar size and can be adjusted to the size of your phone is necessary. Most standard-size phones will not have a problem fitting into a range of bike phone mount brands, but larger models may require a mount that isn't lightweight and is bigger.



Cost-Effectiveness

Smartphones are expensive. It is critical to choose a mount that provides a very secure attachment, good visibility, and access to your phone's controls in a single convenient location. Cheaper models often do not have these features.


Our Top Picks
Best Pick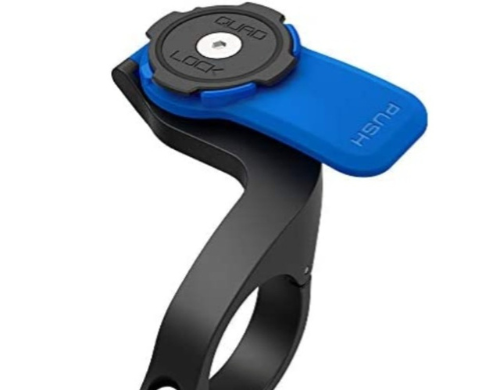 Firm enough for even mountain biking on rough terrains.
It has a patented dual-stage lock that secures your phone and can be rotated for over-stem mounting.


This bike mount is compatible with all Quad Lock Cases and Universal Adapters. You can now easily access and have a clear view of your phone. Enjoy your road cycling with the option of adjusting your phone to any angle that suits your needs when you're in motion.

Runner Up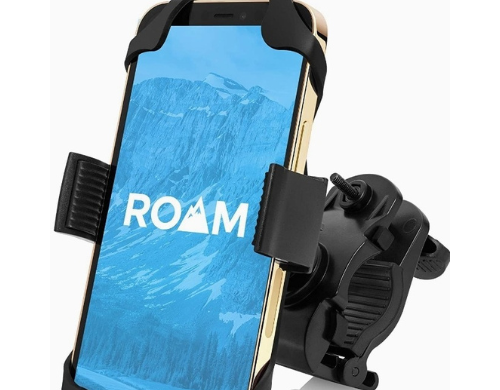 Heavy-duty silicone net that will not crack or break.
This mount is perfectly engineered for all of your biking adventures; from bumpy to smooth terrain.

Roam promises you the stability you won't find easily elsewhere. With silicone nets that won't crack or break even under intense weather conditions, you can rest assured that your device is securely locked in place no matter the terrain.

Most Cost-Effective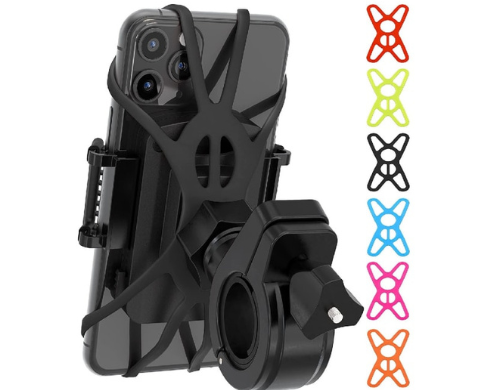 Wraps around the bike's handlebars so your phone stays put even on bumpy terrain.
A custom phone mount with an advanced security grip and anti-vibration padding.

The TruActive provides a safe and stable phone holder for motorcyclists, bikers, and ATV riders. It is made from materials that have been rigorously tested to ensure premium quality and durability at an affordable price.

Everything We Recommend
Best Pick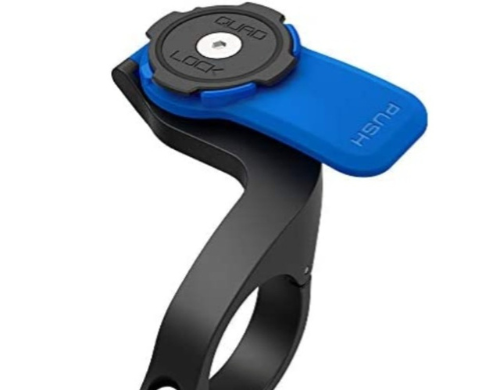 Firm enough for even mountain biking on rough terrains.
$44.94
Runner Up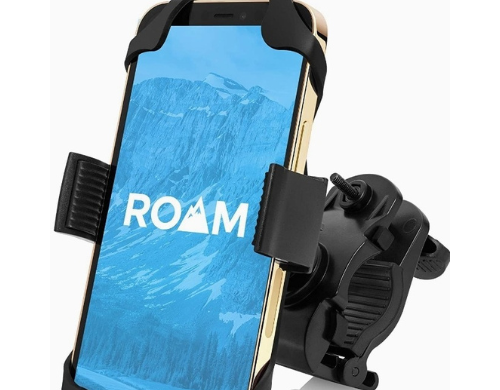 Heavy-duty silicone net that will not crack or break.
$14.99
Most Cost-Effective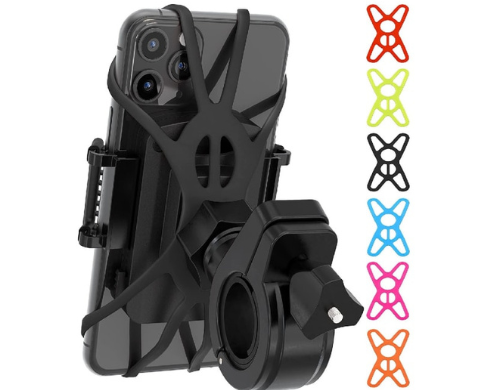 Wraps around the bike's handlebars so your phone stays put even on bumpy terrain.
$15.20
Who This Is For
The products advertised here are for regular bike riders or bike commuters who will need a smartphone as a frequent copilot. From listening to music, following GPS directions, or seeing alerts while riding, a phone mount will keep your smartphone safe, visible, and accessible at all times.
Is a phone mount for my bike a good idea?
The last thing anyone wants to see is a cyclist looking down at his lap with his hands off the steering wheel. A phone mount bike is a great idea for your bike if you want your phone securely stored in a place that is visible but doesn't block your view.
Phone camera vs. bike camera
Having a camera will generally make a cyclist feel safer, especially since we live in an age where it helps to record just about everything. Using a phone camera on your bike will allow you to film point-of-view footage and video yourself easily by just reversing the camera.
Bike cameras, on the other hand, are great for recording what happens while riding. They have built-in lights and may provide a sense of security, but they are very expensive, and the simple process of mounting them on your bike, turning them on, and positioning them before every ride can be very inconvenient.
The only downside to using your phone's camera is that your phone may be exposed to vibrations, which can distract you from viewing your environment properly, but that's why phone mounts exist.
Why You Should Trust Us
With so many different brands of bike phone mounts to choose from and the need to have your phone just where you want it, we searched for the best bike phone mount that suits your bike and offers a secure, unencumbered view of your entire screen with easy access to commands.
All our bike phone mounts have been assessed for security, durability, long-term performance, and ease of use.
How We Picked
We love the products that we write about, so we independently completed hours of research by carefully evaluating the available phone mounts to root out The Best Three Bike Phone Mount for 2022.
In selecting our picks, we considered the overall functionality of each phone, and in all our picks, you will find universal mounts that are easy to use and adjust, are sleek-looking, and will fit perfectly on your bike, giving you the freedom to film, hands-free wherever you plan to go.
We also evaluated mounts that use silicone or plastic bands to hold up large and heavy smartphones and discovered that less expensive mounts are not built with durability in mind so if you are a cyclist that rides on rough terrains you may want to invest in a higher-tech phone mount which will offer great stability and security while riding hard on those bumpy paths.
Care and Maintenance
If you spend a lot of time cycling through wet or humid weather conditions, consider purchasing a phone mount that comes with protection against bad weather.
You should choose the part of the bar where you plan to install your mount before purchasing one and consider the flexibility it offers when it comes to how easily you can get your phone in and out of the mount, especially if you plan to access your device often for handy functions. Handlebars are the ideal place for placing mounts but do not let the mount clutter the handlebars.
They should allow you to access your phone's touch controls easily without hindering visibility or distracting you while riding. Clean your mount of debris or dirt as often as necessary and always double-check to ensure your phone is secured after attaching it to your mount before you begin your ride to prevent crashing it in the course of your trip.