The Best Bedside Lamps under $200 for 2023
Bedside lamps can be quite expensive. However, here are some practical yet low-cost options to help you spruce up your space.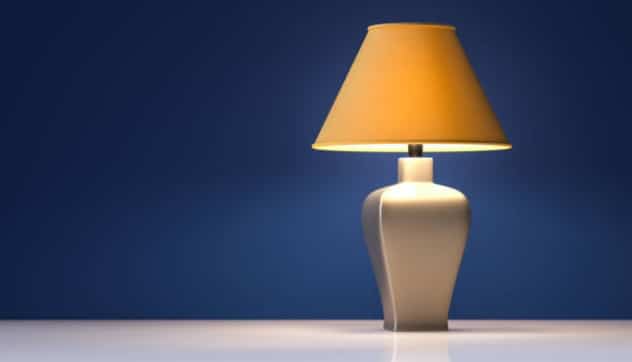 Buying a bedside lamp for a modern home that is also budget-friendly can present an issue. It is a fact that the bedroom is one of the most important parts of the house. As such, your bedroom furniture and fittings should be able to provide you with comfort and safety while you are sleeping.
However, finding lamps that function well, look great, and are moderately priced can be a tall order.
If you are on a budget but prefer a lamp with clean lines and modern designs or the rustic charm of vintage designs, then this roundup of the best bedside lamps under $200 is for you.
How We Picked
Type of Light

If you read constantly, consider getting a lamp that allows you to adjust the brightness. If you'd like to sleep with the light on, go for one that has a very dim setting to prevent any disturbances.

Design + Finish

The design of any bedside lamp should complement your bedroom décor and fixtures, such as the hardware on your nightstand and bed. We focus on innovation and finishing that balances most rooms' aesthetics.

Cord Length

Consider a medium cord length that reaches the bedroom's wall socket without overlapping on the floor. We recommend a 5 to 10-foot cord length or more so that you don't use an extension cord.

Price vs. Quality

Lamps can range in price and quality, so setting a budget beforehand is essential. On the bright side, there are many reasonably priced and quality lamps out there that may fit all your needs.


Our Top Picks
Best Pick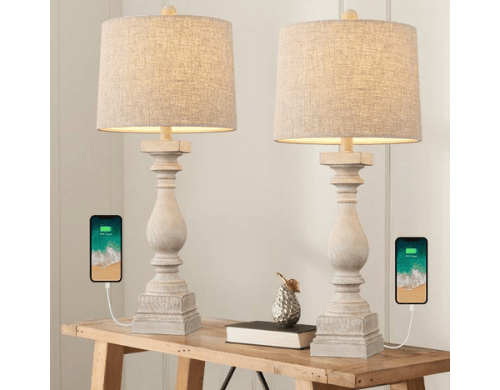 Retro and classic.
Perfect for relaxing, reading, and working.

The most noticeable feature of this lamp is the 2 USB charging ports set at its base. The classic and retro designs create an elegant mood in your room. This table lamp pair is a fabulous addition to your house since they match any modern, industrial, or boho furniture styles.
Runner Up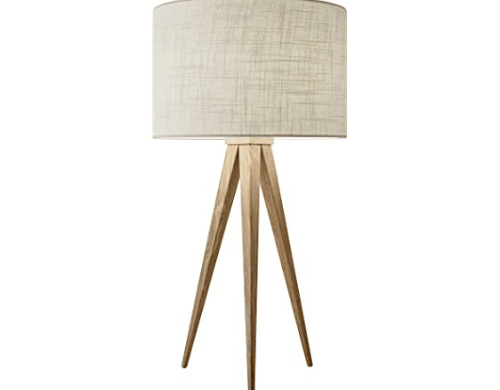 Minimalistic and well-designed.
Comes with a 3-way rotary socket switch control to adjust the light brightness and warmth.

The beauty of this lamp lies in its simple and rustic design, which is finished off with a white and black fabric. This table lamp features a fabric-covered cord that is unusual for most lamps. Quickly change the brightness with the three-way socket switch that you can pair with a 100 watts 3-way light bulb.

You can only control the switch in three ways with a 3-way light bulb; otherwise, it will only work with a simple on/off switch.
Most Cost-Effective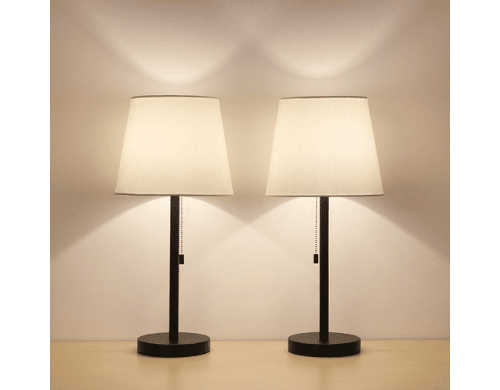 Simplistic and affordable.
20-inch high modern desk lamp, suitable for various rooms.
The Haitral company has affordable table lamps for a set of two. These lamps are designed and finished to make them mesh seamlessly with just about any décor. This pair of lamps from Haitral is 20.5 inches tall and has a black metal base topped with a white fabric shade.

The lamps also feature a pull-chain switch with a matching black end nut for convenient switching.
Everything We Recommend
Best Pick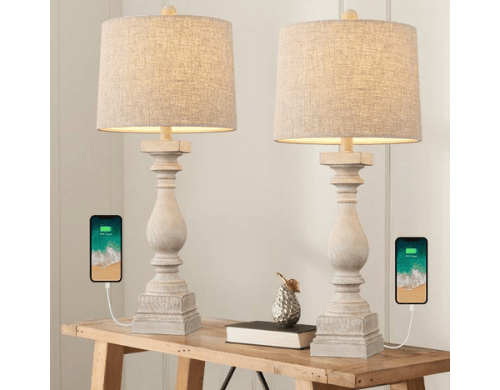 Retro and classic.
$99.99 ($50.00 / Count)
Runner Up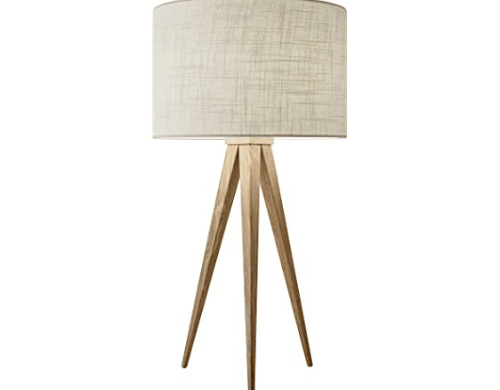 Minimalistic and well-designed.
$130.00
Most Cost-Effective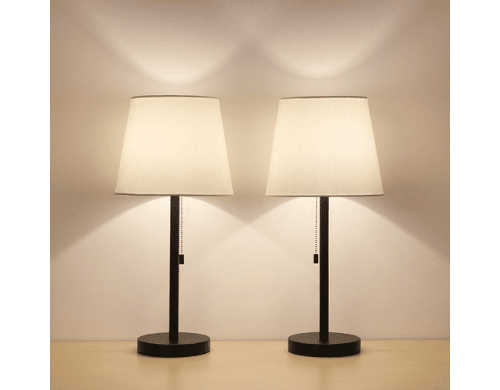 Simplistic and affordable.
$55.99 ($28.00 / Count)
Who This Is For
Suppose you fancy regularly settling in bed with a book, puzzle, or tablet before retiring to sleep, appreciate a unique lamp design or mood in your décor, or have a partner you don't want to disturb with overhead lights at night.
In that case, this guide is for you. Additionally, you might find this guide helpful if you have an average to a small bedroom with none or more than one bedside table and want bedside lamps to illuminate your room at night.
Bedside lamp vs. floor lamp
Bedside lamps, as the name implies, are used in bedrooms; some also use them in living rooms and other commercial and residential settings, like offices. Most bedside and floor lamps come with lampshades flared at the base to allow for effective light illumination.
Bedside lamps are commonly short as they are intended to be placed on your bedside table and easily accessible from where you lie in your bed. Additionally, bedside lamps are usually used for reading books, magazines, or journaling before sleep.
Modern bedside lamps have artificial intelligence that allows you to control the lighting remotely or charge your phone with a dedicated USB port. It is good to avoid large, clunky lamps in your bedroom as you will struggle with them taking up a lot of space; unless you have an extra large table on the side.
Floor lamps are what they sound like; they are taller than bedside lamps and feature a wide base and a lampshade that is similar to a bedside lampshade. They also come in a barrel or drum shape; the shade is narrow at the top and becomes wide as you move down.
Floor lamps are great for lighting up large rooms since the light is illuminated both downward and sideways. Modern floor lamps also feature contemporary design and improvements like a sturdy base that make them efficient.
If you are a minimalist, consider using a tall floor lamp that is slim with a sturdy base.
It is important to note that you can use a floor lamp as your bedside lamp by placing it somewhere accessible and suitable, especially if you have a small room.
Adjustable vs. fixed
Regarding positioning, some bedside lamps are meant to be mounted on the wall; this means that they are fixed, and you won't need a nightstand, especially if you have a small-sized bedroom.
Fixed lamps give your room more space.
However, being mounted and fixed on the wall doesn't mean they are not adjustable — their arms may still be adjustable to certain angles.
The lighting can also be adjustable or fixed. Most traditional-like bedside lamps have fixed lighting. If you need to alter their lighting, use lighter or darker lamp shades that help filter the light or use dimmer or brighter bulbs to your liking.
In contrast, most modern lamps have special features that make their lighting fixed or adjustable through some technology.
Some use a smart switch button, while some can be controlled using apps on your phone.
Why You Should Trust Us
We have garnered information from top interior décor specialists and vendors for interior décor products. We have also gone further to review various lamps.
We outlined key important lamp features and evaluated what reviewers were saying about them in some prominent online marketplaces like Amazon and Walmart.
Our concern is how our picks' overall rating compares with many similar products and how it influences our decision.
How We Picked
The following key features helped us test a variety of bedside lamps and why they are great with such a feature.
Type of light
If you regularly read before sleep, a lamp with adjustable brightness to illuminate your screen or page without glare is good for you. Too much bright light makes the eyes tire quickly, and too little light strains them from squinting.
The type of lighting also goes with room aesthetics; some lampshades or bulb color modes help you easily achieve this.
We recommend a less bright lampshade or bulb color if you have a bright room so that the lighting is not too bright and a lighter lampshade or bulb color if your room color is somewhat dull.
Design + finish
The lamp's design, shade, and bulb you choose can affect the room's atmosphere. Whether you want traditional, vintage, modern, or mid-century décor, you must pick a good design.
Since choosing the right design that aligns with your room can be challenging, we went for lamps that were very neutral for various décor schemes.
Cord length
We believe that a cord length of at least five feet is ideal since it can easily reach wall sockets in the room. Longer cords help you prevent using extension cables and increase safety.
Price vs. quality
We recommend purchasing a set of lamps with the qualities you are looking for. If a lamp is expensive and lacks some quality assurance that you are looking for, then consider alternatives that have quality or special features.
Size
Consider how things balance here – a tall and narrow lamp requires a matching shade. A shorter and wider lamp might go well with a slightly larger lampshade.
The room around your bedside lamp is important too. It should sit in the middle of your bedside table or nightstand with equal space.
Build quality
It's best if you have a lamp that serves you well. Carefully built lamps with a weighty and sturdy base. The material of the base is very important for the survival of your lamp. Some lamps easily break at the base when they tip over, becoming unusable and unpleasant until replaced.
Is it adjustable?
This special feature is important, whether it is adjustable positioning or lighting. You might not need to adjust the positioning of your lamp, but sometimes you might need to adjust the lighting depending on the occasion. Lamps that have this feature seem to be of good quality.
Care and Maintenance
How to clean — which materials to use and avoid
It is best to avoid using sprays, soaps, and cleaning solutions to clean your lampshades, especially fabricated ones, since they can discolor or damage fabrics.
Obtain the shade first before cleaning.
Remove it so you can clean it easily. Use a dry lamp shade sponge cleaner from nearby stores to gently remove dirt.
Vacuums and compressed air might as well be used, but keep a distance so that you don't damage the fabric.
Where to place
Keep the edge of your mattress and the lamp at a distance of about eight or more inches, depending on the width of the shade. The lamp can be a fire hazard, and the damage can be fatal in the case of overheating or electric malfunction.
You can place the lamp on bedside tables, coffee tables, hallway consoles, or corners. Ensure the lampshades never touch your curtains or other furniture that would easily catch fire.
Furthermore, the lampstands can be fragile. In that case, place the lampshade somewhere it can't be knocked over when people pass.
If you have small children, place the lampshades in higher places where they can't reach them.