The Best Bathroom Mat for 2023
These top bathroom rugs and bath mats are both visually appealing and comfortable to stand on.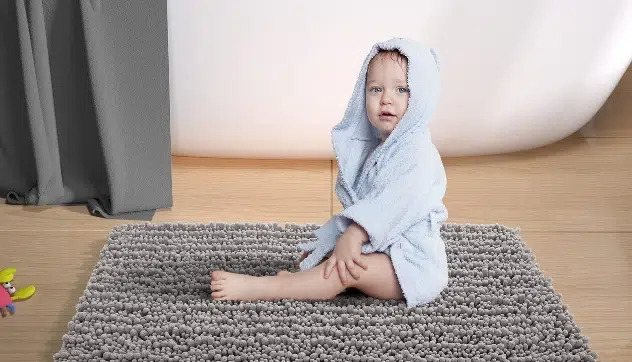 Whether it's a small room shared by three siblings or your private spa, your bathroom should be a haven of peace, order, and freshness. At first sight, bath mats may not seem so important, but they are significant.
They help keep your floors clean and dry, lower your chance of slipping as you exit the tub, and provide a warm area for your feet to rest on.
Additionally, it's an essential component of your bathroom's design, keeps your floors pristine, and helps you avoid slipping.
To suit each person's needs and tastes, bathroom mats are available in a variety of materials, sizes, and colors. From plush cotton bath rugs to high-tech bath stones that swiftly absorb water and stop mildew.
To assist you in choosing a perfect mat, we've compiled and analyzed the top bath mats and rugs on the market. Your home will have a sturdy and energizing centerpiece that adds a touch of luxury thanks to our top options.
How We Picked
Size

One of the most crucial factors to think about when buying a bath mat is its size. Your bath mat's size should simply be influenced by the magnitude of your tub or shower because an overly tiny mat will appear unattractive and result in wet floors, while an excessive mat may become clumped.

Safety/Anti-Slip

Safety and anti-skid backing are additional crucial features to take into account when searching for a bath mat/rug.

Every year, thousands of patients with bathroom-related injuries visit the emergency room, many of which are caused by slipping in the shower. Since a bathroom is a moist space, it is important to keep slippery mats and rugs out.

Style/Design

Your personal preference should guide your selection of a bath mat/rug that matches the design of your bathroom. A straightforward mat/rug may simply unify the bath area and connect it to the rest of the bathroom. The mat's pattern also has to be taken into account so that it can complement other patterns or bathroom products the best.

Cost-Effectiveness

A bath mat or rug may be one of the smaller bathroom accessories, but that does not mean it is the least expensive. Depending on their functionality and durability, some bath mats or rugs can be more expensive. Still, when they are high-quality items that will last you for years and withstand endless washes, we believe the investment is well worth it.
Our Top Picks
Best Pick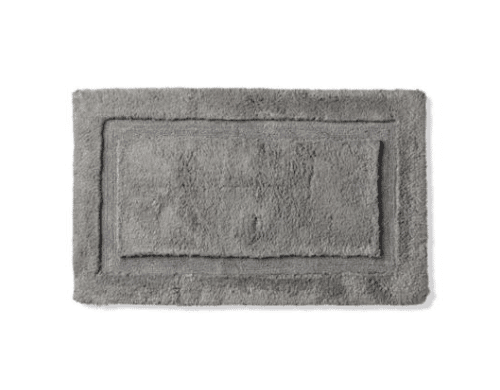 Simple to drape to dry in between showers.
Like a thick, luxurious towel, this bath rug is soft and bouncy underfoot.
You'll enjoy using the Frontgate Resort Skid-Resistant Bath Mat for a very long time, both as a dry bath rug and straight out of the shower rug, because it is so comfortable.

However, the company gives a 90-day money-back guarantee and will fix or replace any goods for a complete year starting from the time of purchase if you're unhappy with your purchase.

For something you'll use every day, we think that it's worth the premium price tag.

Runner Up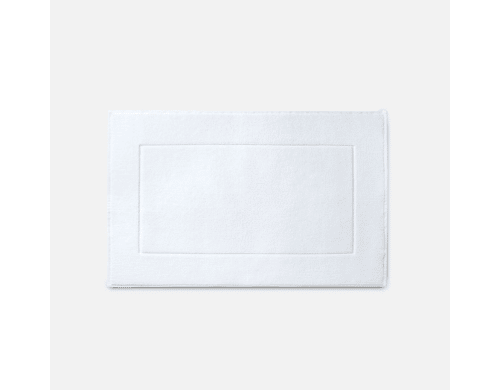 Exceptionally soft and absorbent feeling bath mat.
If sleek and contemporary vibes are more of your style, we believe the Brooklinen mat is perfect for you.

The floor covering is a straightforward rectangle with a piping design across the margins. What makes it stand out from the competition is its great quality and awesome feel, which makes it feel somewhat like fantasy as you walk off the tub.

It has also been approved by a self-governing certification scheme that analyzes home materials and items for about 300 known dangerous compounds.
Most Cost-Effective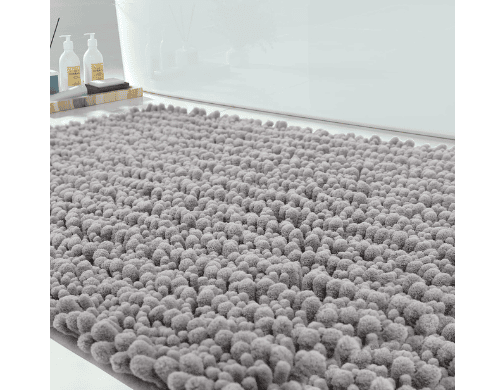 An inexpensive and very absorbent bath mat.
This bath mat has a pattern that adapts to the contour of your foot.


This mat's luxurious chenille surface provides the utmost tenderness for bare feet. It seems as though you are walking on soft clouds while using a sturdier and better-made chenille bathroom mat that gives nice underfoot support.

Available in 13 different shades, you can choose your favorites to perfectly match the interior decoration of your bathroom. We also adore how soft and absorbent it is.

Everything We Recommend
Best Pick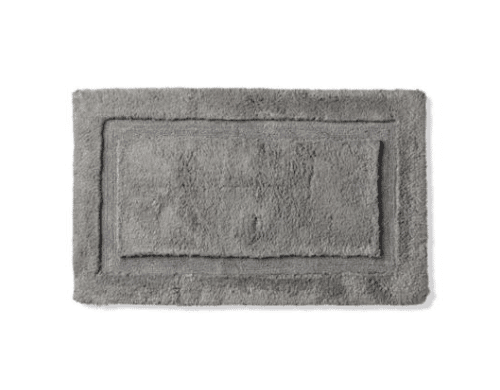 Simple to drape to dry in between showers.
Runner Up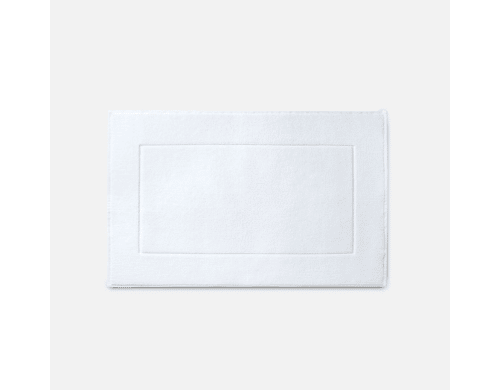 Exceptionally soft and absorbent feeling bath mat.
Most Cost-Effective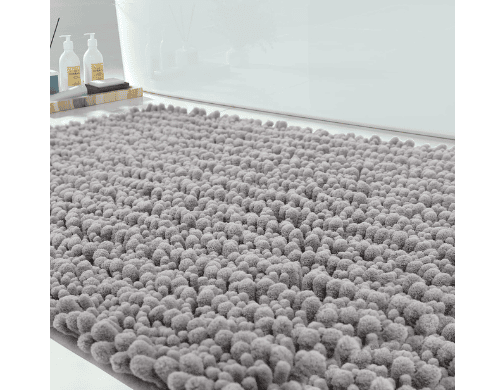 An inexpensive and very absorbent bath mat.
$16.99
Who This Is For
The products reviewed are for anyone who takes their bathroom safety seriously and would like to prevent any accidents. Slips and falls may seem like unimportant occurrences, but they can have major consequences.
A person is more likely to sustain a head injury or a bone fracture with a simple slip. The elderly may become socially isolated and lonely as a result, as they may be afraid to go out and visit relatives and friends for fear of falling. So you can also buy this for an elderly person if you know of one.
Bath mat vs. bath rug
Knowing the distinctions between a bath mat and a bath rug will give you a good idea of which option is ideal for your bathroom when choosing décor. They are two distinct items, although people often refer to them as one.
Be on the lookout for rugs and mats made of water-absorbing materials, as this stops water from spilling over and creating post-bath splashes on your bathroom floor. Water damage to floors occurs over time.
If you let puddles linger for a short while, the sealant on the tile floor will disintegrate and linoleum can turn discolored. Both bath rugs and mats have a distinct role.
It's crucial to understand the specifics of each so you can make the best decision for your family between a bath mat and a bath rug because they both have different appearances.
What is a bath mat?
A bathroom mat is designed primarily to prevent you from slipping on damp bathroom surfaces. To dry off after taking a bath, place a bath mat in front of the bathtub or shower. They often have anti-slip properties and are especially absorbent for safety reasons.
What is a bath rug?
Luxury bath rugs are primarily designed to be an aesthetic element in your bathroom, even if they may help absorb moisture after a bath. To complete the effect, bath rugs can be matched to your bathroom's motif and drapes, towels, and shower curtains.
They're not just for the front of the bathtub or shower, you can use them anywhere in your bathroom.
While both are quite attractive, the main difference is that bath rugs are soft and give the room a more opulent sense than bath mats do. While both make excellent selections for your bathroom at home, the decision between a bath mat and a bath rug comes down to personal preference.
Bath mats rarely have skid-proof backing and are typically more fashionable than practical. After stepping off the shower or bathtub, bath mats' latex backing helps you avoid slipping.
Unlike a bath mat, a bathroom rug is often usually composed of a fluffier, more opulent material. A bath mat, which is frequently composed of a flat piece of silicone or cotton cloth, is more functional than a bathroom rug and can add a touch of decor to the space.
Both words are frequently used interchangeably. What matters is if it is clean, regardless of what you label it. Not just for aesthetic purposes, but also health.
Is having a bathroom rug safe?
As long as you follow the cleaning and maintenance guidelines, a bath rug is safe. Since mold and mildew thrive in moist, warm settings, bath mats that dry more rapidly are more hygienic. Every two weeks, wash the bathroom rugs or mats in hot water to keep them clean.
Alternatives that do not absorb water while also preserving the cleanliness of the bathroom are wood bath mats. You can locate a non-skid rug that has always been washable and constructed of non-toxic components if you are worried about keeping it clean.
Although BPA and phthalates are frequently found in these mats, it is recommended to use non-skid rugs or mats composed of non-toxic materials or chemicals.
Should I have a bath mat?
For some people, going to the bathroom can be calming, but it's also dangerous. For those with mobility issues, especially the elderly, this could be a concern. According to the World Health Organization (WHO), almost 30% of the adult population in America suffers from hip and head injuries due to fall accidents in the bathroom.
A person is more likely to sustain a head injury or a bone fracture with a simple trip. Even if they are not made of glass tiles, someone can still slip if the floors are wet and filled with soap scum, which is why you need a bath mat.
Fortunately, you can easily prevent falls and improve bathroom safety by using a non-slip bath mat. While you stay there for a while and dry off, it ensures that any water from the floor is absorbed and provides stability.
Some also put rubber ones in the bath with small suction cups on them to keep you from flipping over inside the tub and breaking your ribs or even your leg or arm as it can happen fast.
Do bath mats actually help with preventing slipping?
If you're concerned about your safety, non-slip bath mats or shower rugs may come in handy in your house's bathroom. Each year, bathroom-related accidents cause around 234,000 visits to the emergency unit, which are mostly caused by slips in the shower.
Non-slip bath mats should frequently be useful in preventing falls when you're taking a shower. Get a non-slip bath mat to be safe, especially if you suffer from a disability or a chronic pain condition.
Furthermore, a non-slip bath mat is not only advised but also necessary if you live with children or elderly people. Non-slip bath mats don't just keep people from falling; they also keep them from hurting — and not just the agony that follows a fall.
Since the cushioning of the mats can relieve aches and pains, they are good for your feet and joints. Purchasing a non-slip mat or rug made out of rubber or foam as opposed to plastic can provide you with even more relaxation.
Why You Should Trust Us
There are thousands of attractive, effective, and stunning bath rugs and mats advertised on different retailer websites and stores, each one designed with unique features and sold at different prices.
Due to the variation in brand, sizes, effectiveness, design, safety, and price of these bath rugs and mats, it can be hard to select the right one, so we have conducted in-depth research to choose quality, attractive, easy-to-maintain and wash, comfortable, soft, effective, and reasonably priced bath rugs and mats for you!
How We Picked
We researched the market, examined hundreds of rugs and bath mats, checked expert reviews, and looked through thousands of consumer reviews.
From there, we chose the best bath rugs and mats across a variety of styles, dimensions, and materials that were well-regarded, useful, and gorgeous.
When making our decisions, we opted for options that could be machine washed while putting utility, design, and value first. We also provide bath rugs and mats in a variety of price ranges, and each option has received an average rating of at least 4 stars from customers.
Bath rugs or mats should only be selected according to the size of your shower or bathtub, so we selected rugs and mats of different sizes. When going into and out of the shower, you should note that your mat or rug completely covers the floor space you are using.
A mat that is too small may appear unattractive and result in wet surfaces, while a mat that is too large may restrict movement. To fit properly in your bathroom, make sure to look for bath mats and rugs that are both small enough and big enough to be useful and not simply beautiful.
A mat or rug with an anti-slip backing was also chosen because it will help the mat stay put even if it gets wet. The finest bath mat materials largely depend on personal taste. However, if you use the bathroom with anyone else, you'll want to buy a mat composed of absorbent materials that dry quickly, as you can see in all of our selections.
Other than that, a lot of your choices will depend on your style. Bathroom rugs and mats are available in a huge selection of hues and materials, such as bamboo, microfiber, chenille, and suction-cupped plastic.
Since slipping is a major concern, we chose fabric bath mats with extra grip as an added layer of protection. However, not every fabric bath mat has non-slip protection, so it is not a guarantee of safety.
Typically, silicone, thermoplastic, or latex are used to create the gripping backs because they are all excellent at resisting slipping. If you've been using a robe as a bath mat, it's crucial to take into account the fact that these materials also aid in protecting your flooring against water damage.
Cotton absorbs liquids more readily than polyester does, yet polyester dries incredibly fast, doesn't shrink, and its chenille weaves are very absorbent. There is also microfiber, which feels more velvety smooth than cotton and can hold many times its weight when soaked.
Wood is another choice that is becoming more and more popular; while it is typically more expensive, it requires little maintenance and offers your bathroom a luxurious atmosphere. That's why we chose bath mats and rugs made of various materials.
Care and Maintenance
Avoid applying too much force to your bath mat or rug, as slippage is still a possibility if you want to get many years of use out of it.
Although some must be hand-washed or spot-cleaned, most textile bath mats may be washed in the washing machine. Depending on the level of use they receive, bath mats and rugs should be washed more frequently.
You can typically go a few weeks without laundering your bath mats or rugs if you don't get them wet too frequently. By vacuuming them to reduce filth and hanging them outdoors when they get damp, you can leave your bath rugs healthier and cleaner between washes.
Making sure they don't remain damp for an extended period is crucial to preventing the growth of mold and mildew.
Of course, cleaning and drying your mat or rug on a machine can shorten its lifespan. Bath mats can be hand-washed with a mild detergent and dried by hanging if you'd want to retain them for a longer period.
However, utilizing a moderate wash cycle will also be effective. The cleaning instructions for each mat or rug should also be carefully read and adhered to (the majority are machine washable).
Many mat and rug makers advise against using powerful detergents and cleaning agents like fabric softener or bleach since they can completely damage the mat or rug.
Take the mat or rug outside and beat it to remove any ingrained dirt, hair, or other debris before cleaning your bathroom mats and rugs. Fill a container big enough to handle the rug or mat with cold water, treat any stains with stain remover, and if your rug is particularly nasty, mix in some detergent and oxygenated bleach.
Make sure the entire rug or mat is immersed, sprinkle the detergent evenly, and then soak the bathroom rug or mat for 30 minutes. Dry the rug or bathmat after washing.
For a machine wash, treat any stains with a stain remover before adding cold water to the washer. To balance the heaviness in the washer, wash bathroom mats or rugs all at once or with a few towels.
For tough stains, use ordinary detergent and oxygenated bleach; stay away from vinegar and bleach as they might damage the rubber backing. When the washer stops, take off any bath rugs or mats. Many bath mats and rugs can be machine dried.
However, line drying is considerably gentler on the material as well as the rubber backing.
Bath rugs and mats should be cleaned frequently to avoid mildew, stains, odors, and mold growth. The two basic strategies for halting the initial growth of mold are cleaning and upkeep.
Mats shouldn't be left wet on the ground. To stop mold and germs from forming, clean bath mats and rugs frequently.