The Best Bath Trays for 2023
Keep all your bathing essentials within reach with these best bath trays.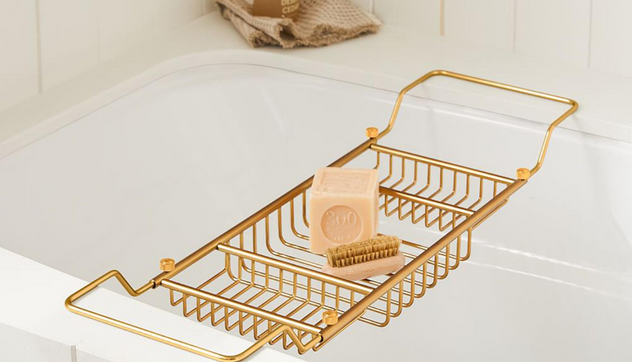 Soaking in a nice warm tub is a great way to focus on your mindfulness and shake off the troubles of a busy day. It would help if you had a good bath tray to make your bath more enjoyable and comfortable.
A bath tray is designed to rest across your tub so that you can keep all your bathing essentials within comfortable reach. Most bath trays have compartments for items such as bath soap, a loofah, a washcloth, a book, a toothbrush, and, more interestingly, a glass of wine. Having a bath tray in your room also encourages you to have good baths often since it allows you to do other activities such as reading a book, using your phone or tablet, and enjoying a drink. A bath tray is indeed what you need to have enjoyable baths and soak all your worries away.
How We Picked
Material

An essential consideration when selecting a bath tray is the construction material. The material determines if a tray is robust enough and corrosion resistant,


Lightweight + Stable

Nobody wants a bath tray that is heavy and difficult to move while soaking in a bathtub. Hence, this factor is a good one to consider.


Design/Style

The design and style of a bath tray determine its functionality. The kind of design a bath tray has may be what someone needs and fits their needs.


Price

Bath trays are relatively affordable. Even as you look out for a product with excellent quality, you must also consider the price.

Our Top Picks
Best Pick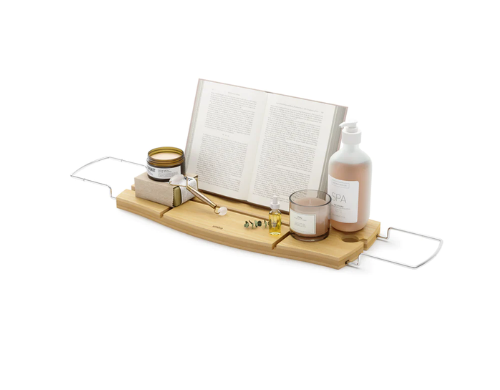 This is a well-designed, luxurious, and durable bath tray.
It is a smooth and well-polished tray with a nice bamboo body and adjustable metal legs that can be placed on the bathtub. It comes in two lovely earthy colors; natural and walnut.
This stylish wooden tray has a slot for virtually anything you could need when taking a gentle bath.

Runner Up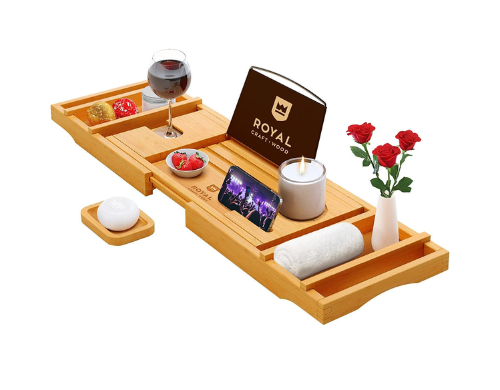 This adjustable bath tray is great for the days you have company.
This is a well-built bath tray with removable compartments, a separate soap dish, a book or tablet stand, a wine-glass holder, and a phone slot. Given that it's expandable, it's perfect for two people's use and can fit different bathtubs.
This tray comes in seven different colors, perfect for different decor needs.


Most cost-effective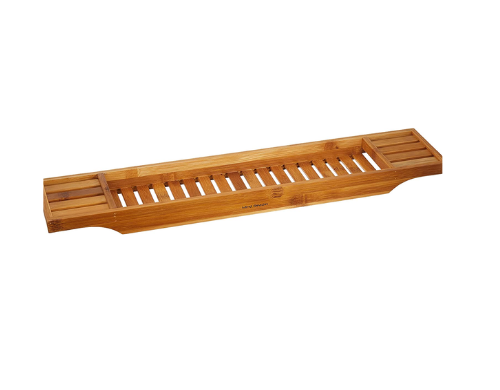 Looking for a cheap, exciting thrill? This one is for you.
This simple bath tray is perfect for the days you want to bring essential items with you. It's an excellent fit for most tubs and comes ready to use.
While this tray is cheap, it holds up pretty well.


Everything We Recommend
Best Pick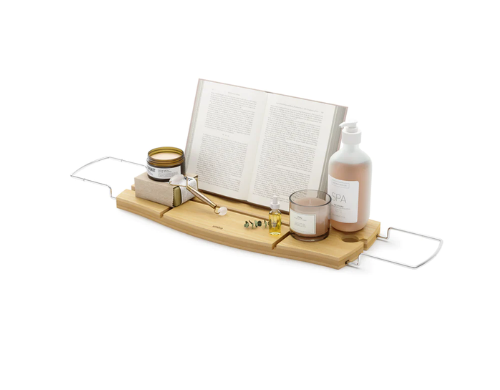 This is a well-designed, luxurious, and durable bath tray.
Runner Up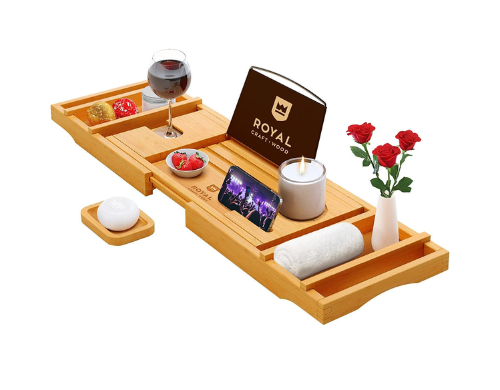 This adjustable bath tray is great for the days you have company.
$50.96
Most cost-effective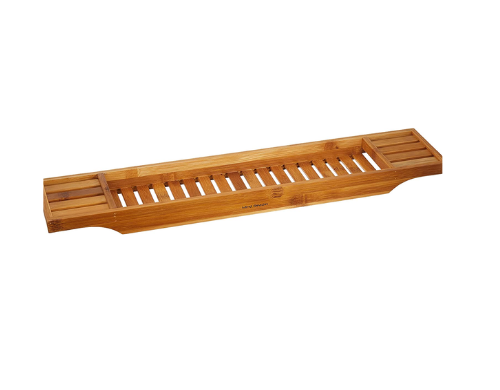 Looking for a cheap, exciting thrill? This one is for you.
$19.75
Who This Is For
The products advertised here are for everyone who desires to experience that spa-like feeling without leaving the bathroom of their house. The bath trays advertised here have been carefully reviewed, and we strongly recommend them to you.
Perhaps you have your bath often, but you seek ways by which you can improve your bath activity. With a bath tray, you get to spend more time in the tub as you enjoy the warmth of your bath without wasting any time since a bath tray affords you the privilege to use your phone while bathing, read books, and even enjoy a drink.
This is for anyone who prioritizes comfort and physical care. Baths go a long way in helping one gain mental stability after heavy stress and other physical benefits. But, baths are better with bath trays.
Do I really need a bath tray?
A bath tray is a super useful product that'll make baths for you much more relaxing and enjoyable, especially if you are in the tub.
Having a bath tray saves you the stress of where to keep your bath essentials while soaking. They don't have to chill on the floor, nor do they have to sit on the corner of your tub at risk of toppling over into the water when you have one of these gems.
With a bath tray over your tub, it seems like you're in a spa. You get to shake off your worries and the stress of your long day. Consider it a table in your office, doing your activities while enjoying the delight of soaking in warm water. You want to always have baths with a bath tray after your first try. So, we recommend that you get a bath tray. It'll go a long way in ministering you the comfort you deserve.
What's the alternative?
For different reasons, you might choose to make a homemade bath tray instead of purchasing a pre-made one. To make a basic bathtub tray, you'll need a few items like wood, a drill, a sanding tool, and some screws. Since you will use the tray around water, you'll need to find water-friendly wood such as bamboo, white oak, cedar, or teak.
Firstly, know how wide your bath tray should be. This should be based on how large your bathtub is and what things you'll want to place on its surface.
You can then measure the width of your bath tray and cut it according to your desired size with a saw. Sand the edges to eliminate any roughness.
Then, flip the wood slab so that the bottom faces upward and measure the width of the wood (from top to bottom). Cut two more pieces of wood to the width of your tray with a diameter of about 2 x 2 or 1 x 2 inches. These will serve as bumpers to keep them from sliding off the side of the tub. Finish by sanding any rough patches. You then have your homemade bath tray even though you will not have the kind of quality you'll find in a premade one.
Why You Should Trust Us
We have carefully picked the best bath trays just for you, with your best interests always at the back of our minds. We've looked for effectiveness, comfort, and cost-effectiveness in our selected products, all just for you.
How We Picked
We are committed to giving you the best recommendations, and that's why we usually search through various products and examine their distinct features and why they might be the best fit for you. We took our time to analyze our choices based on past customers' experiences and their reviews on their use and choice of bath trays.
Hence, we base our selections on each product's features, particularly on general terms like its price and materials.
We've also considered the sizes of these bath trays. Other product features such as ease of usage, styles, designs, weight, and effectiveness have also been duly noted. We've also searched through how cost-effective each product we choose is to ensure that we recommend cost-effective products and not lose track of the quality of the product and how efficiently it will serve its desired purpose.
We've spent time reviewing different bath trays. We selected our picks based on the style, size, material, price, and other necessary additional features.
Care and maintenance
Owning a bath tray is just as important as taking good care of and ensuring proper maintenance of your bath tray. Ensure longevity and your bath tray stays in good shape and condition so it can serve its purpose for a long time; several steps need to be taken.
First is ensuring that you clean your bath tray. It's bathing equipment, and we're sure you can't afford it to get and stay dirty. That'll be unhygienic and unhealthy.
To clean your bath tray, wash it with soapy water, completely dry it with a towel, and then air dry it afterward. You can also oil it to maintain its shine and help maximize its years of use.
You can also use a vinegar-water mixture (14 cup vinegar to one-quart water.) Wipe your bath tray down with a damp cloth. The vinegar scent dissipates quickly, or you may add essential oil for a pleasant smell. We recommend lavender oil as it's antiseptic and has a calming scent.
But make sure you do not put a bamboo tub tray in the dishwasher. The warmth and water will cause the wood to warp and void warranties from most manufacturers. You must also not soak or allow the tray to stand in water. The wood will soak up water and warp.
When not in use, the bath tray should be kept in a dry place in your bathroom or any other safe place in your home. Ensure you do not place it within reach of kids who might turn it into a playing object. Ensure you keep the bath tray where it won't attract dirt, microbes, and other impurities. Even better, clean your bath tray before using it.