The Best Basic Home Toolkit for 2023
With a basic home toolkit, you can complete a wide range of home improvement projects.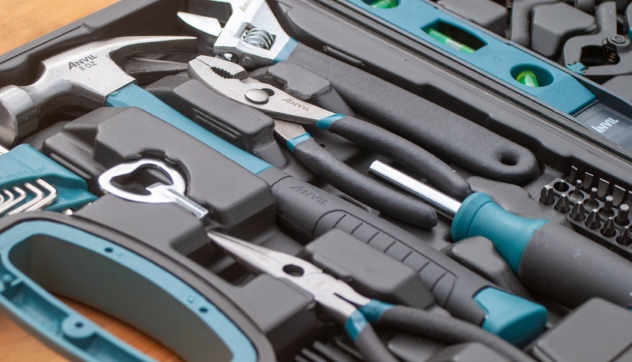 A basic home toolkit could be the solution to all of your household maintenance issues. It will assist in resolving those pesky issues that arise in the most unexpected places and will ensure that you have everything you need to complete household tasks such as painting or replacing all those cracked tiles.
It's true that some individuals prefer to merely push buttons or call someone to do everything for them instead of having to do things by hand. Nevertheless, there is nothing wrong with looking after yourself!. We have selected our top four basic home toolkits specifically for you.
How We Picked
Number of Pieces

If you're going to use the toolkit for simple tasks like hanging pictures, you probably need one with a set of pliers, a screwdriver, and a wrench. If you're working on complex projects, there are toolkits with more versatile pieces.


Easy to Use

This is a largely subjective experience. If you're a beginner, you may check the reviews on the net or see if the supplier offers a guidebook on how to use the tools. Otherwise, you'll need to test it yourself.



Durability

Durability varies depending on design and material, but all products can withstand rigorous use. Given that a toolkit is not something you keep buying, most of them are sturdy and durable.



Cost-Effectiveness

The toolkit's compatibility with your spending plan and lifestyle should be your top consideration. Another factor is how much time and money can be saved by using it instead of hiring a professional.


Our Top Picks
Best Pick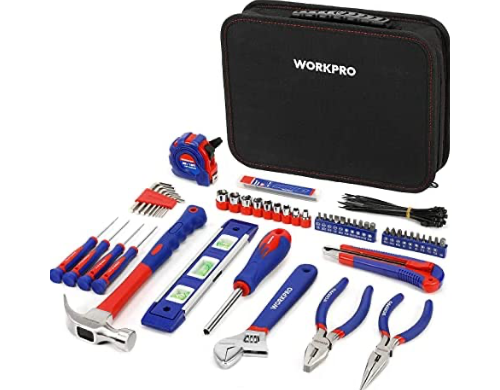 The ideal starter toolkit for becoming a DIY magician in your own home!
WORKPRO is an efficient toolset with an easy-to-carry bag for novice do-it-yourselfers to repair their homes when minor or moderate faults arise.

The WorkPro 100-Piece Kitchen Drawer Tool Kit set includes all the most practical and essential tools for daily usage and house maintenance. The entire tool body is covered in double fabric and delicate stitching, which gives the bag remarkable durability. There is no need to be concerned about your tool bag breaking or becoming damaged while in use.

Runner Up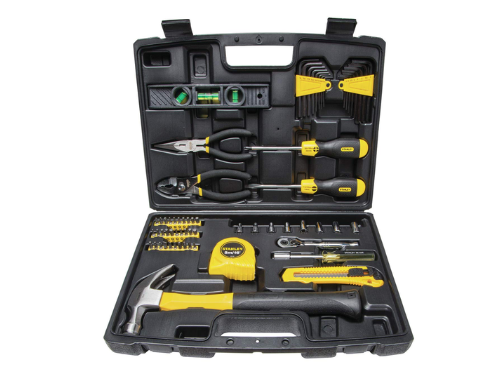 This kit comes with 248 gorgeous pieces to enable you to turn your home into a DIY playground!
The STANLEY 94-248 toolkit will diligently serve DIY enthusiasts and professionals, and with its 248 pieces, you can tackle complex issues comfortably.
With 248 components, this cutting-edge toolbox provides individuals with a practical approach to managing their homes. Whether doing basic repairs, hanging pictures, or cutting through boxes, this mechanic set will equip you with the high-quality Stanley essentials required to complete many DIY projects.

Most Cost-Effective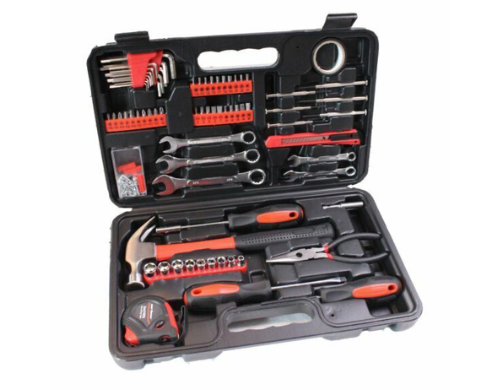 This is a budget but quality toolkit optimized for both home and garage repairs.
The Cartman toolkit not only has a large number of pieces, but it is also reasonably priced, and with 148 pieces, you won't need to buy anything else.


This toolkit will assist you in completing your home projects while saving you time and money to put towards more important investments. Its high-quality materials will allow you to easily tackle even the most difficult jobs.

Everything We Recommend
Best Pick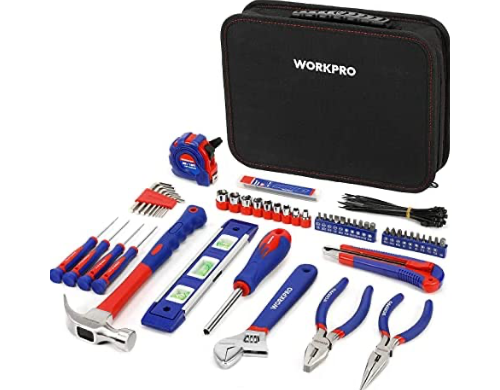 The ideal starter toolkit for becoming a DIY magician in your own home!
$29.99
Runner Up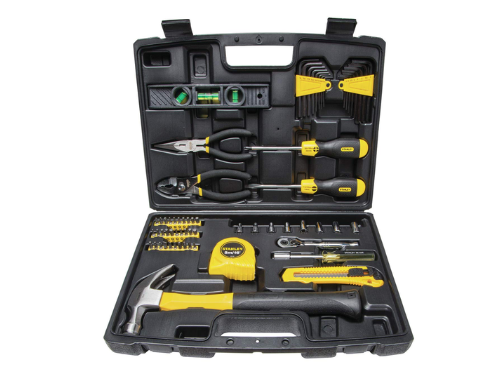 This kit comes with 248 gorgeous pieces to enable you to turn your home into a DIY playground!
$52.28
Most Cost-Effective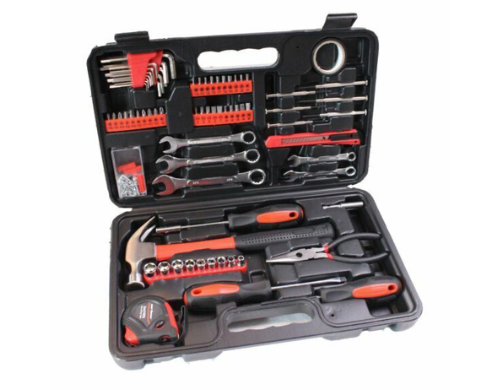 This is a budget but quality toolkit optimized for both home and garage repairs.
$34.99
Who This Is For
Consider purchasing some basic home toolkits if you want to save money and your family is ready for a new, more convenient way of living. A basic tool kit will be far less expensive than purchasing each tool separately and will enable you to save money on batteries and replacement components. It's a fantastic way to get and stay organized, too! When you're on a tight budget, having the appropriate equipment on hand may really make a big difference when you need to do repairs around the house or in the garden.
Tools expected in a tool kit
When it comes to home improvement, the tools you use make a lot of difference. Whether you're trying to repair a loose door or install a new fence, there's no better feeling than knowing that you've got all the right tools in your toolkit. In a basic home toolkit, you've got everything that most homeowners need: a hammer, screwdriver/s, wrench/es, a power drill, screws, nuts and bolts, pliers, and tape measures. If you wish to buy these tools individually, you won't be able to find them in every store. However, you may purchase them all together in a toolkit, so they will be available when you need them most.
Why You Should Trust Us
We know that buying a basic home toolkit can be stressful. You want to get the best deal on your new set of tools, but you don't want to spend too much or buy something that doesn't work well or last. We're here to help — and we're going to do it by taking you through the process of choosing and evaluating the best basic home toolkits for your needs. We've been in business for a long time, and our team is made up of experts in the field who are passionate about assisting customers in finding the best solution for their needs. We understand how it feels to be overwhelmed by all of the options available, so we've written this article to assist you in selecting the best toolkit for you.
How We Picked
We considered the following factors when selecting the best basic home toolkits for you.
Number of Pieces
The first factor we considered when choosing our top basic home tool kits is the number of pieces. Some kits have as few as one piece, while others have multiple. We made certain that the toolkits contained the most essential tools and pieces to aid you in your home/garden repairs and improvements.
Ease of Use
Another factor we considered was how easy it is to use each item within your kit. We chose kits that are quick to assemble, simple to use, and capable of handling necessary tasks around the house.
Heavy Duty
Heavy-duty tools are known for being dependable. They make it safer to complete a task because they won't break down when you need them most. They don't put people at risk of harm when used appropriately, and they don't ruin things needlessly. Nothing surpasses a product that can withstand damage and continues to function when it comes to getting the job done. Thus, we chose the sets that had pieces that could resist constant heavy use for years on end.
Price
The cost of toolkits might differ. There are premium brands utilized by professional technicians, and some relatively inexpensive imported toolkits available at your local discount store. We searched for cost-effective toolkits that are also of exceptional quality.
Style/Design
One thing is certain, basic home toolkits are also all about style and design. We wanted to make sure that our toolkits would be as stylish as possible, so we included options that would fit every lifestyle.
Size
It is also important to consider the size of your basic home toolkit. We chose those with boxes large enough to hold everything you need but not so large that they become a burden!
Care and Maintenance
The following factors need to be taken into account when maintaining your basic toolbox at home:
You must first understand how to use the toolkit. This implies that you ought to be familiar with how the tools operate. You'll be able to complete the duties at hand with greater assurance and prevent accidents and injuries as a result of doing so. 
Also, remember that a fundamental home toolkit requires regular sharpening of the tools. Find someone who can do this safely if you are unable to do it yourself so that you can be sure the job is completed correctly.
You should also be conscious of safety issues. When using tools at home or anywhere else, safety is always paramount. Ensure that youngsters and dogs cannot access any of your tools. Be mindful of additional potential issues with your standard home toolbox, such as damaged or insufficiently spaced electrical plugs, sharp tool edges, etc.