The Best Baby Wrap and Sling of 2023
Keep your baby close and your hands-free with these baby wraps.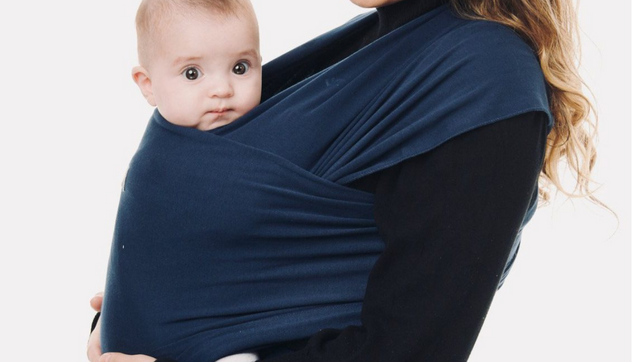 Owning at least one baby wrap and sling will greatly simplify your life. Skin-to-skin contact will allow you to bond with your newborn, carry a fussy baby hands-free, and breastfeed with ease. A baby wrap also allows you to hold a baby and entertain other children at the same time. A baby sling or wrap really is a parent's best friend!
Interested in learning more about this amazing product that will enable you to retain close contact with your child while reclaiming crucial time? We have all the information you require to pick the ideal baby wrap for you and your child.
How We Picked
Comfortable Material

Cotton, modal, linen, and bamboo are just a few of the materials that can be used to make baby wraps. And, the comfort level of each material varies. We evaluated the fabric of the wraps for elasticity, breathability, and ease of tying to determine their level of comfort.

Safe for Baby

To keep your baby secure and comfortable at all times, you need a baby wrap that is supportive and well-fitting. As one of our safety measures, we avoided using wraps with any clasps or buckles because they can irritate an infant's sensitive skin.

Design/Style

While style is a personal choice, we awarded extra points to wraps that could serve multiple purposes besides carrying the baby. We went with wraps that have a breastfeeding cover, a postpartum belly band, or pacifier storage pockets.

Price

Baby wraps are about comfort for you and your baby. The good news is they don't cost much, but it helps to spend a little more on quality and extra safe options. Our picks deliver great value and accommodate a reasonable price range.
Who This Is For
Although a baby wrap may not always be necessary, it is one of the most popular products parents select when creating their baby registries. This is so because using a wrap has so many advantages for both parents and children, especially in the fourth trimester. In addition to helping your baby relax and fall asleep (and remain asleep), wearing them in a wrap helps free up your hands so you can complete other tasks.
Wrap/sling vs. carrier – what's better?
The absence of clasps and buckles on the wrap is among the significant differences between a baby carrier and a wrap. Because they can irritate an infant's tender skin, many parents of very young newborns appreciate that wraps don't have these features. However, as your child grows, you could decide that the extra structure and support that clasps and buckles provide is a great addition. When it comes to babywearing accessories, there is no one size fits all, and various designs will be more or less suitable for various individuals depending on their needs. Here are some factors to consider when you decide which choice is best for you:
Ease of Use: The learning curve for baby wraps may be longer than for carriers. However, with a little practice and frequent tutorial videos from businesses or YouTube, you may become a pro in no time.
Cleaning: Consider the ease of cleaning the wrap or carrier as well. Some are washable, while others are only suitable for spot cleaning.
Lifestyle: Whether you should purchase a wrap or opt for a baby carrier depends in part on how frequently you anticipate using it. If you enjoy taking walks or hikes, you might wish to spend money on a long-lasting, high-quality carrier. If you don't anticipate leaving the house often during the fourth trimester, you might prefer to spend less on a basic wrap that will enable you to carry the baby while you perform household chores.
Age of baby/comfort: The majority of the time, both carriers and wraps may be used with infants of any age, but the comfort level may vary depending on your baby's size and weight. For squishy newborns, wraps work well. Older babies might find wraps too constrictive, but the closeness simulates being in the womb and can be soothing to a restless or colicky baby. While many carriers don't need to be modified for older babies or toddlers, but many of them do require infant inserts for newborns or kids under a specific weight, which can be purchased separately. 
Is it worth splurging on?
Although using a baby wrap is not required, many parents find that having one is really helpful. After all, baby wraps give your infant comfort and love while enabling you to complete tasks. You might discover that you don't need a wrap as often if your child enjoys swings or bouncy seats, but it's still useful if you need to go out and about. Babywearing, on the other hand, can be very helpful if you have a newborn who doesn't like naps or being put down because your movements serve to relax your baby without straining your back by carrying them for extended periods. Because skin-to-skin contact increases levels of the feel-good hormone oxytocin and lowers levels of the stress hormone cortisol, some parents want to be close to their children. Breastfeeding also requires oxytocin, which aids in parent-child relationships.
Why You Should Trust Us
National Today takes great satisfaction in working with reliable independent writers that have years of experience writing about lifestyle issues and product reviews. We have years of experience covering lifestyle, home, parenting, and business articles for National Today. We regularly explore the internet for the finest products for our audience, but we also devote a significant amount of time to studying, contrasting, and writing about products exclusively for children and families. We looked at user and competitor reviews, as well as the specifications of baby wraps and slings available on the market, to determine which ones were the best. When selecting our favorites, we took into account the design, features, fit, pricing, washing convenience, material, and safety.
How We Picked
Comfortable/type of material:  The body heat generated by holding your infant close to you for a long time can be rather intense. To keep you and your baby cool and comfortable while using the sling or wrap, use a wrap or sling that has easy airflow. When wearing a baby, using lightweight fabrics like 100% cotton or airy linen will help you stay cooler.
Safe for baby: Consult your baby's pediatrician before buying wraps and slings to be sure that they are safe for your child. You need to use caution as some premature babies lack the muscle strength to maintain an open airway in an unsupported position.
Design/style: Stretchy wraps are less supportive than woven wraps, but they are also more user-friendly and comfy, making them more suited for babies. Wraps that are woven are more durable and perfect for front or back carrying. As your child gets older, they can be worn in a variety of ways. Even though the slings and carriers in this article are made for babies, you can still carry your toddler. While some carriers can be used with older children, some must be swapped out for ones designed exclusively for toddlers or preschoolers.
Size: We considered that you might intend to use the wrap and sling with your spouse, so we made sure the size will fit both of you and that it can be readily adjusted.
Ease of use: You can carry your child in a variety of ways, including inward-facing, forward-facing, on your hip, and your back. Before you buy, consider what is achievable with a wrap and sling because our options accommodate various positions.
Portability: Some cloth ones can be folded up and thrown into your diaper bag, so you will always have them on hand. However, some structured carriers, particularly the rucksack designs that are typically targeted at older babies and toddlers, can be extremely heavy and bulky; for this reason, we didn't include them on our list.
Washability: Hygiene is very crucial, especially when it comes to newborns, so we considered easy laundry when selecting the best wraps and slings for you. Our picks come in a cloth design to enable convenience when washing your wraps and slings.
Care and maintenance
Is it machine washable? How to wash and dry
You may often machine wash baby wraps and slings, but it's advised to use a cool cycle (about 30 °C) and gentle detergent. You should seek to avoid washing it in the same load as clothes that include zippers or other sharp objects, depending on the fabric, since this can catch on the fabric and result in loose threads. After washing correctly, air dry for faster results.
In case of rips, odor, or stains
Spot cleaning is a fantastic method for removing odors and stains that don't really need to be washed. Simply use a washcloth and warm water mixed with the baby's laundry detergent to blot away any extra liquid before letting the item air dry completely. Avoid using bleach or other abrasive cleaning agents on any form of clothing. Not only might this harm the contents of the carrier, but these substances are hazardous to infants and irritate their skin.
Where and how to store when not in use
If you have a stash of gifts you want to put away, simply hang them on a basic storage ladder in your bedroom or foyer. If you want to conserve floor space, you could alternatively hang them from some cute wall hooks or a rack with accordion hooks. Our preferred method of storing the wrap, if you have a Loop, is to hang it by the rings on the wall.