The Best Baby Gates for 2023
Baby gates are perfect for restricting access to certain areas while allowing your baby to see what's happening in the rest of the house.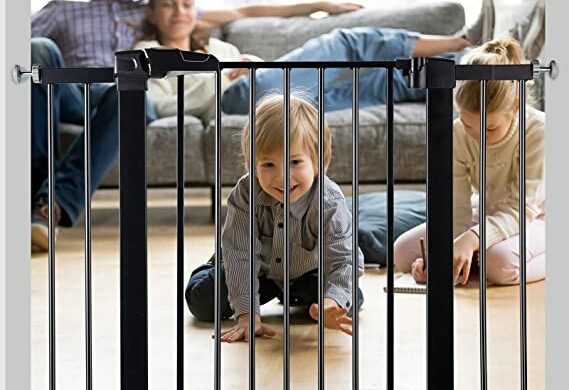 It can be exhausting to keep tabs on your baby's movement 24/7. Fortunately, childproofing particular spaces using a baby gate can allow you to perform other day-to-day activities. Baby gates are not only a simple alternative but also a safe way to protect your adventurous baby from harm.
However, these baby gates can also lead to fatal accidents if they are not installed appropriately. Let's face it, we are dealing with babies who need occasional protection and monitoring. Therefore, always ensure you tightly secure the gate on the wall. A premium quality also comes in handy because the gate won't break easily no matter how many times the baby collides with it. This article will help you make a safe choice for your baby.
Our Top Picks
Our Top Pick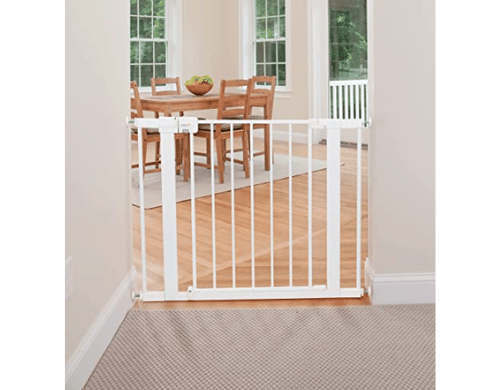 Easy-to-read indicator shows you whenever the gate is not closed to ensure your baby's safety.
$44.99
Our Runner-Up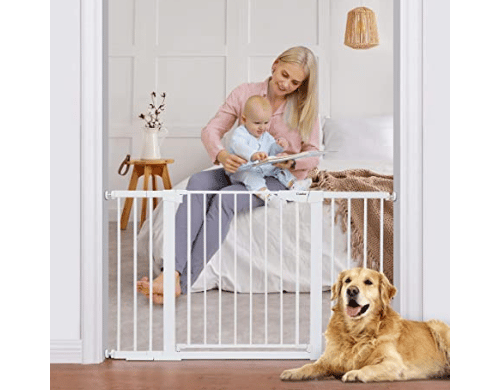 Heavy-duty steel resists corrosion, wear, and tear and serves you for a long time.
$84.99
Most Cost-Effective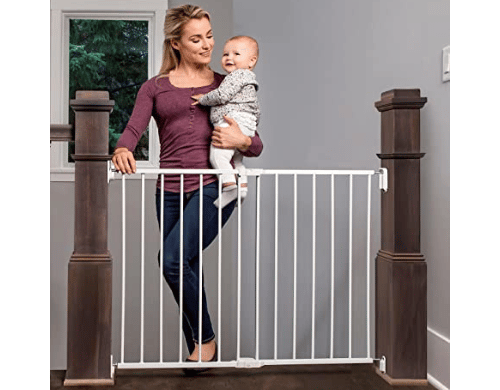 Rapid and simple assembly eliminates the need to hire a professional to set it up for you.
$39.98
Who This Is For
A baby gate is ideal for any mother that has a baby that is more than 6 months old. However, the size of the gate will be based on the space that needs closure. Baby gates can be used in spaces like doorways, hallways, the top and bottom of stairs, between rooms, or any other space that leads to dangerous zones.
Are they necessary?
Any parent who uses a baby gate will tell you that they can keep your babies out of harm's way. You can then rest assured that your baby will not go off to explore potentially dangerous places like kitchens or toilets. Baby gates also allow you to separate kids from pets so they can become familiar with each other. You can do this by placing the gate at the center of two separate rooms. Moreover, baby gates can release you from monitoring your baby 24/7 so you can perform other activities.
Can I just use a pet gate?
Usually, using pet gates on babies is not recommended since they may not be secure enough to hold the baby. This is dangerous, especially if you place the gate at the top of the stairs. Therefore, the baby will require frequent supervision in case the gate loses its grip.
At what age do you start and stop using one?
Most baby gates are ideal for kids that are six months old. This is when the baby hasn't yet begun crawling but is in the process of doing so. On the other hand, numerous babies start recognizing their surroundings at the age of two years. At this stage, their skills will develop and they may try to climb over or open the gate.
Why You Should Trust Us
Babies are innocent and cannot detect danger or risks in their surroundings. They need a minder to help keep them safe. Our aim when producing this content is to ensure that your kids are always safe. With this understanding, we have only picked and reviewed strong, secure, and fitting baby gates that will always keep them safe.
How We Picked
To ease the purchasing process, we have appraised different types of baby gates that guarantee your baby's protection. As a consequence, we have chosen only the most stable and secure baby gates that will not fall over whenever the baby pushes them.
We have also picked baby gates of different sizes that will fit most spaces. The bars are also closely fitted in all our picks, so your baby does not go through. They are also high enough to prevent babies from climbing over. Safety does not end there because all our products are JPMA certified, which shows that the gates are laboratory tested and proved safe.
Additionally, all the baby gates on our list are easy to use, carry, and set up. Some can be installed without tools, thereby eradicating the need to drill holes. They also feature a one-hand technology, which allows you to open the door with one hand whilst holding your baby or a laundry basket on the other.
All our picks are flexible and allow you to open the door in two different directions. They also allow easy movement from one destination to the other, all thanks to their lightweight design. Besides, they also enhance the decor of your living space since they are elegant and classy.
How We Picked
Secure and Stable

Given that the gate is for your baby's protection, you should always ensure their safety. As a result, select a strong structure that will not easily break. Furthermore, ensure that the gate can be securely attached to the wall.

Easy to Set Up and Use

You do not want to get a baby gate that is complicated to use and exhausting to set up. Choose a baby gate that only requires you to attach the parts easily without drilling holes in the wall.

Size and Height

The dimensions of the gate you need will go hand in hand with the size and height of the opening. They should fit perfectly into the designated space without forcing you to rearrange your furniture or extend your walls to fit them in.

Cost-Effectiveness

The quality of a product determines its cost-effectiveness. For example, if you purchase a strong baby gate, it means that it will last longer, which in turn saves on extra repair and replacement costs.
Care and Maintenance
You can clean your baby gate whenever you see dirty spots. This is because young children tend to put anything they find interesting in their mouths, and it would be dangerous if they licked harmful or toxic substances. Therefore, clean the gate using warm soapy water and a sponge, then rinse thoroughly before leaving to dry for later use. If the baby gate is not in use, detach all the parts and keep them in a clean and dry place. For instance, you can store them in a basket and then cover them with a clean cloth or use a dry box.
Sources and Research