The Best AV Receiver for 2023
Create the ideal audio ambiance for every of your home theater needs.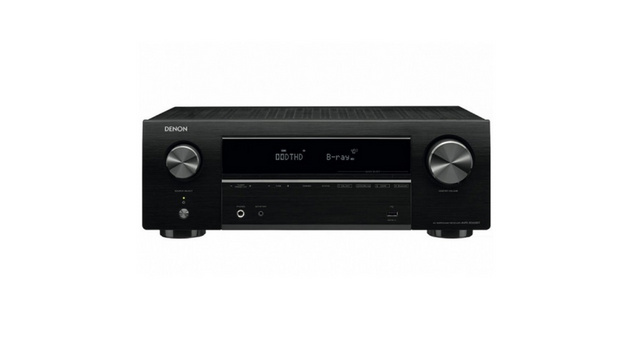 Nothing beats unwinding at the end of the day with a breathtaking movie experience from the comfort of your couch. The truth is that even though the top 4K TVs and projectors may provide the most cutting-edge contemporary picture quality, they typically fall short when it comes to audio. Here, a solid AV receiver is important because it is the foundation for any enjoyable home theater experience. They serve as the all-encompassing conductor, controlling with exquisite accuracy how and when to deliver audio while also providing amplification for your speaker system. In this guide, we provide many recommendations for various situations in your home as some AV receivers offer considerably more functionality for a fee and to satisfy various needs.
How We Picked
Audio Quality and Controls

We examined the speaker-to-speaker transitions of sound effects, the overall power, timbre, and tone of the sound, as well as the general soundstage quality, to test the sound quality and controls.

Input and Output Ports

We considered the advantage of having a receiver that has as many of these HDMI input ports and outputs as possible since most TVs and set-top boxes support HDMI.

Power

We made sure to review AV receivers that can decode Dolby Atmos and DTS:X (newer sound formats) and can power more speakers so you can experience the full range of these sound formats.

Cost-Effectiveness

Notwithstanding your desire to cut costs, a good rule of thumb is to budget for an amplifier that costs around half as much as your speaker set to get decent quality.
Who This Is For
The products reviewed here are for people looking to improve their home cinema experience — who have many sources to connect, and who desire more versatility in their speaker selection and layout.
What is an AV receiver and how does it work?
Essentially serving as the hub of your home theater, an AV (audio/visual) receiver is both an amplifier and an audio/video switching device. The most crucial aspects of your home theater are controlled by AVRs: what you see and hear. Consider your typical home theater. It could have speakers, a Blu-ray player, an Apple TV hub, a DVD or Blu-ray player, and definitely, a TV. Any one of these devices can be connected to an AVR, which will then receive the different signals they produce. The AVR then synchronizes these signals and transmits them to the appropriate output points.
Think about your standard DVD player as an illustration of how an AVR operates. The AVR receives signals from the DVD player and sends the audio and video signals to the television and speakers, respectively.
Is it worth buying an AV receiver?
The heart of most home theater systems is an AV receiver. In a single device, it combines source switching, audio/video processing, speaker amplification, and volume control. Many of them can connect to your home network and transmit audio across the building using services like AirPlay 2 and Chromecast, meaning they may also act as a music hub for your house.
AV receivers of today handle much more than just audio signals. The central processing unit or brain of a home theater system can be compared to the AV receiver in many respects. Without it, the entertainment options available to you in your home theater setup would be fairly constrained. The experience of watching movies in your house would be dull and lackluster without an AV receiver. It enhances movies and makes it simple for you to control your priceless AV components.
Does price or wattage affect audio quality in an AV receiver?
Understanding power ratings and how they apply to your device will help you focus your search for a new amplifier, receiver, or powered speaker. It is assumed that a device will generate a better, louder sound the more watts it can output. While to some extent accurate, power ratings do not always show a clear connection between power and sound quality.
Higher power settings do make speakers play louder and clearer (watts). Small changes in power, however, don't cause audible differences in the sound. To be noticeable, a 3dB difference would need a power increase of two. Accordingly, a receiver with 50 watts per channel would need to be increased to 100 watts per channel before you could tell a difference.
In other instances, you can have two receivers or amps with comparable power ratings, yet discover that one plays louder and sounds richer than the other. The manufacturer testing is what led to this difference in quality between what would otherwise appear to be comparable items. Some manufacturers measure just one working channel at a time as opposed to all channels being driven concurrently, which more accurately simulates actual living room use. Power ratings may not correctly reflect acoustic merit in an at-home environment because conventional amplifier testing cannot replicate the same electrical conditions or quality of sound through a loudspeaker. Additionally, more expensive AV receivers typically have better parts and construction, which results in great sound quality. To fully enjoy the benefits, you will also need premium speakers, high-quality source material, and a proper installation using high-quality interconnects.
Why You Should Trust Us
Working with reputable independent contractors with years of expertise writing about lifestyle topics and product reviews is something National Today takes great pleasure in. We studied many customer evaluations and conducted extensive research on the best AV receiver options available in the market and online to create this post.
How We Picked
Power: Even if you don't have access to a dedicated theater room, a model with significant amplification makes sense as power isn't just about the high volume. A high power output allows an AVR to pressurize a space and deliver dynamic transients without skipping or distortion.
Audio Quality: Even on inexpensive receivers, room calibration is a smart function that you'll regularly find. This feature measures the reflections in your room using an external microphone, which is typically provided with the receiver and then modifies the receiver's sound to compensate. It's a very practical feature, especially if your space is shaped awkwardly or differently than usual. Receivers with this feature are always recommended.
Audio Controls: Your A/V receiver is connected to all audio sources in your home theater, including CD players, turntables, and digital audio players. You can quickly switch or select amongst the linked audio sources you want to listen to using the AV receiver's preamplifier section. AV receivers eliminate the need to manually connect and disconnect wires because everything can be switched on and off by simply pressing a few buttons.
Display: All video source equipment is usually connected to the A/V receiver, which is then connected to your display equipment, such as the projector or television. This setup makes accessing video sources much easier, and you can typically choose what you wish to view using the AV receiver's remote control. You can save the effort of manually adjusting or connecting cords between the various sources and the linked display.
Interface: A simple user interface on an AV receiver makes it easy to connect, configure, and optimize home theater systems. The remote control for the receiver, the display on the receiver's front panel, and an on-screen display on your television are the interface choices.
Input and Output Types: There are numerous connectors for audio and video components on the rear panel of every AV receiver. HDMI cables, which transmit both audio and video information, will be used by the majority of your equipment to connect to your receiver.
Number of Input Ports: Find a receiver with enough audio channels to effectively accommodate all of your speakers, whether you have stereo speakers or a full surround sound system. Additionally, if you have the resources, it never hurts to have a few extra channels available in case you decide to expand later on.
Price vs Quality: An AV receiver's sound quality will most likely improve as the price increases. Even though it's not a universal truth, this is still a good generalization. In general, cheaper receivers are more likely to employ store-bought parts, whereas more expensive ones frequently use higher-quality parts. Better audio will be produced by these components in turn.
Care and maintenance
How to set up
Nowadays, almost all models come with a microphone and have an auto-setup process. To do this, you must connect the microphone to the amplifier, start the setup process, and wait for the microphone to pick up the tone signals. This communicates to the amplifier the relative positions and sizes of each speaker. Advanced systems are used in better-equipped models that also account for the room's acoustics and audio reflections from the walls, floors, and ceilings.
While auto-setups often produce positive results, faults can occasionally occur, and every AV system could use a little fine-tuning. You can control the loudness of each channel by going through the manual setup process using an SPL (Sound Pressure Level) meter. We have discovered that in many situations, double-checking the receiver-set channel levels yourself will produce a more precise balance between the speakers and also give the chance to change levels to fit a listening preference, such as cranking up the center speaker to emphasize speech. Online, an SPL meter can be purchased for a reasonable price. Considering the price of an AVR, we think this is a wise investment.
Connecting to other devices
Consider the inputs and outputs of the external devices you will need to purchase to connect your receiver. You'll be sending video to a TV or comparable display and audio to speakers for outputs. In terms of inputs, a lot relies on what you have and what you want. A receiver can be connected to consoles, Blu-ray players, laptops or PCs, set-top boxes, and a range of other gadgets. Be vigilant about the ports on your devices, and confirm that your receiver supports the best AV data reception method, such as eARC. There is more to say about the many setups an AV receiver may accommodate, but this will get you started.
Preventing port damage/Electronic safety
Make sure all the wires are securely connected to prevent a receiver from experiencing a blown channel. This issue is prevalent and is simple to resolve. Also, employ speaker wires of superior quality. Low-quality wires may overheat and blow the channel.
Keeping the receiver away from heat and moisture is another approach to avoid this. The receiver should not be placed close to any heat sources and should have good airflow all around it.
Avoid connecting too many speakers to the receiver to avoid overloading it. This can distort the sound. Additionally, avoid playing audio at loud volumes for prolonged periods as this could cause the amplifier to get overworked.