The Best Automatic Litter Box for 2023
Check out our top three automatic self-cleaning litter boxes that you probably shouldn't get.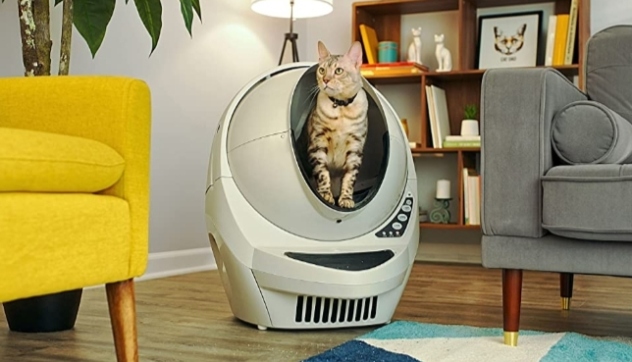 As wonderful as cats can be, they can get quite finicky when it comes to their bathroom habits. Many cats are suckers for clean toileting spaces, and leaving their litter boxes dirty can pose a health risk to you and your cat. It can also lead to unpleasant odors throughout the house.
However, cleaning cat litter boxes can be a real pain, which is why automatic litter boxes are a practical alternative.
After many hours of research, we have come up with a list of the best automatic cat litter boxes available today.
We don't suggest any of them because they are pricey, inappropriate for a home with multiple cats, prone to breakdowns, and don't promise litter box cleaning that is "hands off." However, if you'd like to give one a try, we've got you covered.
How We Picked
Size/Capacity

It is important when choosing to note that cats are very particular about the depth, size, width, and other attributes of their litter boxes. Cramped quarters are no fun and as a rule, litter boxes should have ample space for your cat to move and dig around in



Noise

Automatic litter boxes are made to flush randomly, and this generates noise that can startle your cat. We recommend you go for less audible ones that do not produce loud bangs with frequent flushes.



Efficiency

Some automatic litter boxes come with cumbersome enclosures that get blocked easily. We looked at litter boxes that are easy to set up and do not have a pattern of malfunction complaints



Cost-Effectiveness

Some automatic cat litter boxes are six times the cost of conventional litter boxes and come with a high cost of maintenance. If you're on a tight budget, we recommend you look into other cat care options.


Our Top Picks
Best Pick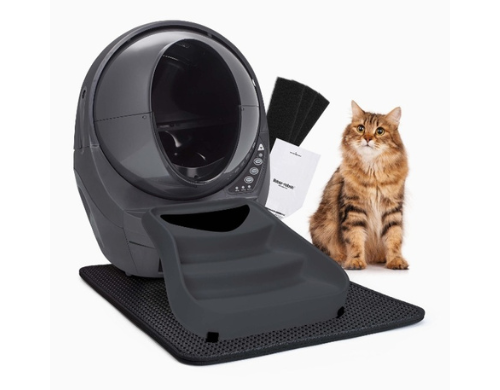 This box can be connected to your smartphone for remote litter box monitoring.
It automatically separates the cat's waste from the clean litter and can hold up to four cats.

With over 20 years of quality production, Whiskers comes through again with Litter-Robot.

This one works with any clumping cat litter or silica gel litter and is WiFi-enabled so you can now monitor your litter box, view Litter-Robot's waste drawer level, get notifications, troubleshoot, and see recent usage history for insights into your cat's health right from your phone.

Runner Up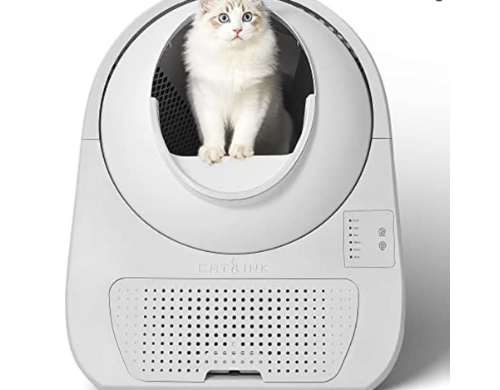 Ultra-large litter box with self-detection, infrared, and gravity sensors.
This one is cleaner and less odor-prone than other standard litter boxes.


Catlink's automatic litter box is noiseless, easy to operate, and generously sized. To effectively eliminate unpleasant odors, it also includes an odor purifier and a carbon filter. It can be used with any type of clumping litter.

Most Cost-Effective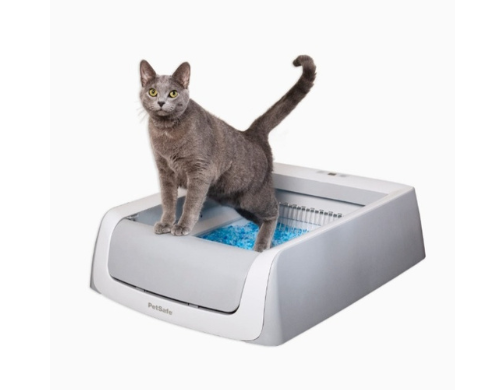 Reasonably priced and can be used for multiple cats
This pick comes with a covered waste trap that keeps smelly waste out of sight.

The PetSafe ScoopFree Self-Cleaning Litter Box promises weeks of fresh, clean litter whenever your cat needs it. It comes with a pack of crystal litter to remove the smell by absorbing the urine and dehydrating solid waste. It also has a health counter and motion sensor that will keep track of how many times your furry feline uses it.

Everything We Recommend
Best Pick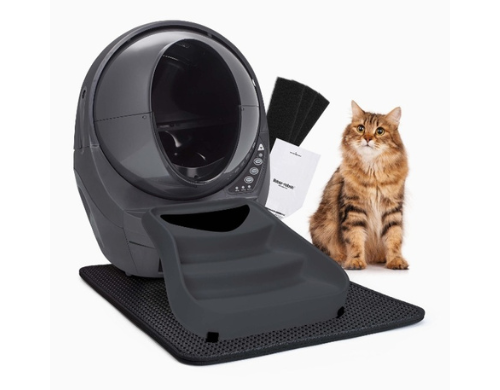 This box can be connected to your smartphone for remote litter box monitoring.
$699.00 ($699.00 / Count)
Runner Up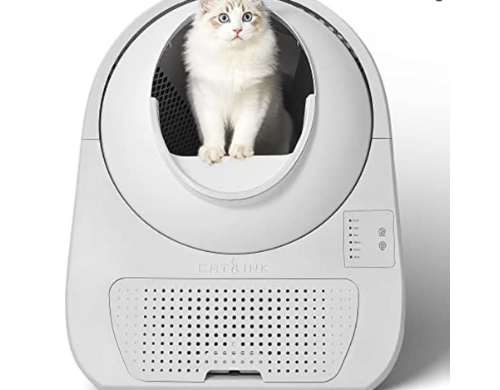 Ultra-large litter box with self-detection, infrared, and gravity sensors.
$449.99 ($449.99 / Count)
Most Cost-Effective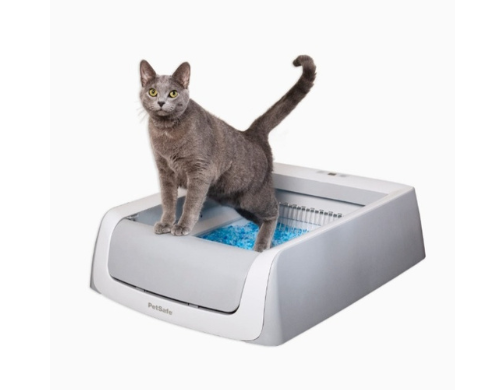 Reasonably priced and can be used for multiple cats
$169.95
Who This Is For
The products here advertised are for both cats and pet parents who desire their cat's toilet to be as efficient and clean as their own.
Are automatic litter boxes better than standard ones?
If you are a cat owner who is constrained by time when it comes to cleaning your cat's litter, or you work long hours or overnight shifts or have an illness or disability, automatic litter boxes can be very helpful because they eliminate the need to clean daily, but this doesn't make them any better than standard litter boxes because you'll still have to clean, and it is going to be more awkward due to the automatic boxes' having more components and requiring more care.
The daily cleaning ritual with standard litter boxes can offer you an important guide in spotting any changes in your cat's excrement that could indicate a developing health concern.
Apart from automatic litter boxes being very expensive, they are more prone to malfunction, are harder to clean, and will require disassembly if they get clogged.
How do automatic litter boxes clean/empty?
Automatic litter boxes are equipped with electric motors that can detect when a cat gets into them and start the cleaning as soon as your cat finishes its business.
The majority of automatic cat litter boxes do this by using a mechanical rake to move through the soiled litter, sifting out any hard lumps left by the cat and depositing them into a separate compartment that is enclosed and will prevent a noxious smell from emanating from the litter. This ultimately eliminates the need to scoop a clump of cat poop each day.
However, it doesn't mean you won't ever have to touch it as you would still need to take the box apart periodically to clean and disinfect all the components.
Why You Should Trust Us
Many automatic cat litter boxes marketed today are of very inferior quality, only suitable for small-sized cats, get clogged easily, and are difficult to clean up.
As such, we've researched different types of litter boxes available and have found the best litter boxes with durable construction that are easy for your cat to access and offer easy cleaning when it's time to deep clean.
How We Picked
Finding the right automatic cat litter box for your friendly companion requires finding the perfect fit for your cat's temperament and also one that has features that work for you. With so many different brands out there, it can be difficult to choose the right one.
To make the process easier, we scoured over previous customer experiences by reading hundreds of customer reviews with different brands of automatic litter boxes and accumulated their opinions on the usage their litter boxes gave them.
Across all our picks, you will find self-cleaning litter boxes that are durable, stylish, easy to set up, come with plenty of space for your cats to easily avoid any "droppings" that might have fallen around from earlier visits, are easy to clean, and control odor well.
Automatic litter boxes are often covered, but since some cats prefer an open box, we have included one for you because there's no way to tell whether your cat would prefer a closed or open box. Given that some cats may be startled by loud noises, we looked for litter boxes that operate quietly.
Manufacturers warn that your cat must be over six months old to conveniently use an automatic litter box because smaller cats might be too lightweight for the sensors.
We recommend choosing a brand that comes with at least one of its dimensions at 18 inches. Since automatic litter boxes generally deposit your cat's waste into a receptacle located at one end of the litter box, we have only chosen litter boxes with a large waste bin capacity (our picks can save up litter for you for up to 2 weeks.)
Bear in mind that automatic litter boxes are generally expensive. Some of the less expensive brands may be gotten for a few hundred dollars, but to get a more reliable brand, you will need a little more.
Moreover, purchasing just any expensive brand does not guarantee quality. So if you're on a tight budget or have a large, feeble, or old cat, getting the automatic box won't make any sense.
While we don't recommend any of the automatic cat litter boxes described here, if you feel like you need one and you have the financial resources to purchase it, you can go ahead and give your cats the luxury of always having a clean spot to relieve themselves.
Care and Maintenance
Depending on your cat's bathroom behaviors and the number of cats using the box, you will have to disassemble and deep-clean your automatic litter box monthly or quarterly.
To prevent odors or stains, wipe down with a damp paper towel, using mild detergent and water. Though not necessary, you can use perfumed sprays to disguise odors. To deal with blockages or jammed mechanisms, unplug the unit, take off the parts, clean them, and reassemble them.
Always unplug the litter box when not in use, and be sure to not disassemble the unit while plugged in.
Finally, make sure that all of the components are completely dry before adding fresh litter to avoid clumping from wet surfaces.