The Best Apple Watch Charger for 2023
These futuristic chargers and stands will change how you charge your Apple Watch, and will make it so much easier!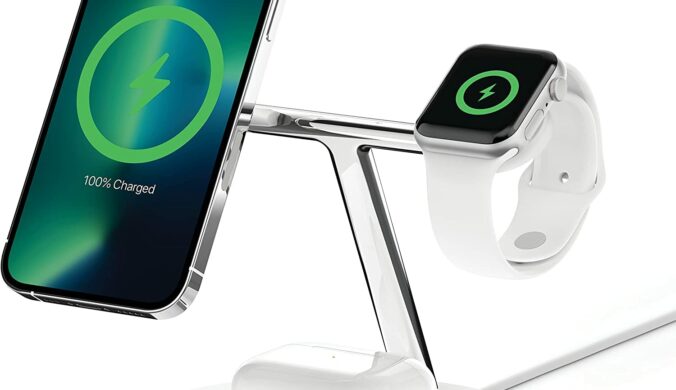 Given the average battery life of an Apple Watch, you might just have to charge it every day. In the majority of cases, this entails setting it on your bedside table when you're sleeping, on the dresser when getting dressed, or at your desk when studying. However, if you use the default flat magnetic charging dock, you know how easy it is for the watch to slide off. An excellent alternative could be an Apple Watch charger and stand. The docking stations on these chargers and stands help keep your watch secure until you pick it up.
Even better, portable charging stands make excellent travel accessories for the Apple Watch. These charging docks provide a safe place to charge while also providing good cable management for improved organization and aesthetics. Wondering which chargers and stands stand out? Let's have a look.
How We Picked
Charging Speed

The charging dock's power output can determine how quickly the watch will charge. If you have later models and would like to enjoy fast charging, a stand with a 20W adapter will do.

Wired or Wireless

The difference between wired and wireless power comes down to two main factors: speed and cable management. Given that you need a cable to power your charging dock, you can't entirely do away with wired charging.

Multi-Device Charger

Having a charger or stand that can power your iPhone, Apple Watch, Airpods, and other devices is very convenient. While these stations may not charge as fast, they reduce cable clutter.

Cost-Effectiveness

Cost is a very important factor to consider when getting an Apple Watch charger. You really do not need to go out of your budget just to get one. We have selected chargers and stands that offer great quality for a reasonable price.
Our Top Picks
Our Top Pick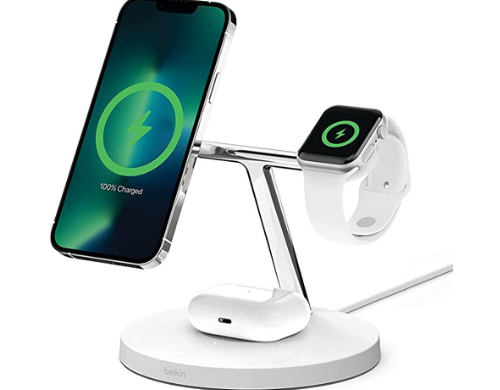 A convenient hub for charging all of your Apple products.
There are plenty of three-device charging stations available online that can be purchased for a much lower price, but the Belkin Boost Charge Pro 3-in-1 is well-built, has strong magnets, and charges quickly. It blends in well with almost everything in your house thanks to its simple, unobtrusive design.
An upgraded charging station that can power an iPhone, AirPods, and an Apple Watch.
Our Runner-Up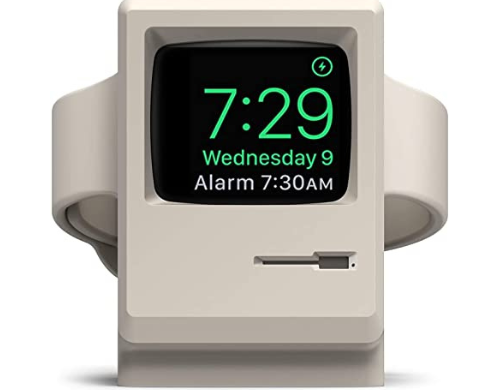 A sweet little charging station.
You'll instantly realize how unique this stand is once you plug the watch into charge. The Apple Watch's display replaces the traditional Mac interface and makes it simple to see the time, date, and battery status. The Apple Watch will automatically switch to Nightstand Mode when it is in that same position on the charging stand.
This version is effective at keeping the watch upright, and it also has a fancifully retro appearance.
Most Cost-Effective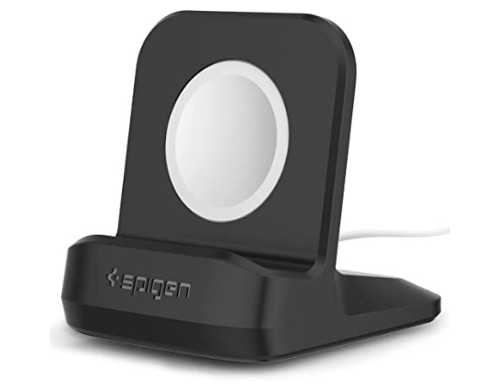 A no-frill charging stand that gets the job done.
This small and sleek charger has a grippy base that prevents it from flipping over when you reach for your watch. Additionally, the dock's rear can be used to charge a watch if it is protected by a tough watch case. Also, because of the vertical design, you may set alarms on your Apple Watch in the Nightstand mode. Awesome, yeah?
The Spigen S350 is the best option if you need a charging station for your nightstand.
Everything We Recommend
Our Top Pick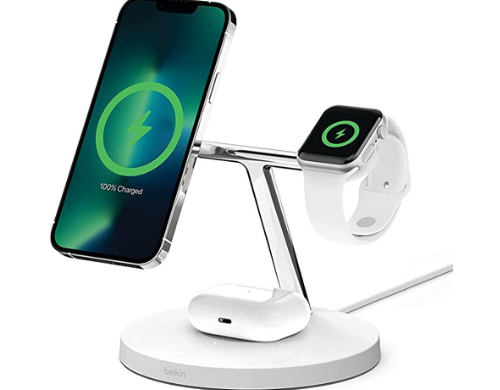 A convenient hub for charging all of your Apple products.
$159.90
Our Runner-Up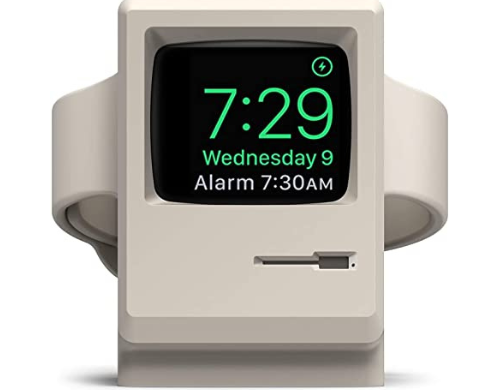 A sweet little charging station.
$13.99
Most Cost-Effective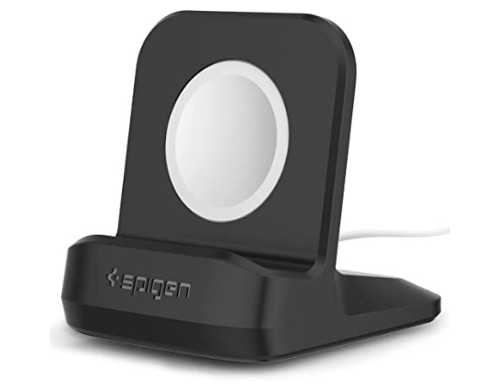 A no-frill charging stand that gets the job done.
$11.99
Who This Is For
Everybody has a distinct method of using their Apple Watch, and different functions have varying effects on how long the watch will last. You may have to charge your Apple Watch quite frequently if you use it to exercise, play music, or make phone calls all day. You can charge your Apple Watch nearly whenever and wherever, almost anyplace if you keep an additional or backup charger nearby, whether it's on your coffee table, in the workplace, or in your restroom.
What is an Apple Watch charger?
Apple MagSafe software and electromagnetic charging are combined in the Apple Watch charger adapter. With wireless charging, power is transported from the power cord to the device using electromagnetic energy. The Apple Watch links with the charger by utilizing an electromagnet for a secure connection because there are no bare connections on the charger. The charger is magnetically fastened by positioning the rear of the watch close to the interface. The battery capacity of some Apple Watch functionalities is higher than that of others.
On full power, you can use the device normally for up to 18 hours while enjoying music for as long as 6.5 hours and talking on the phone for up to 3 hours. An Apple Watch charger guarantees dependable, quick charging, recharging the battery to 80% in 1 hour and 100% in 2 hours, regardless of how you operate your Apple Watch.
Do I really need a charger stand or a charging dock?
Comfort is the main advantage of wireless charging and one that you'll discover right away. You simply place your gadget on a deck or a stand instead of scrounging around for the cord in the confined area between your mattress and bedside table. Additionally, grabbing up and putting down your gadget is much simpler than constantly having to detach and reconnect it if you frequently move about with it while it's charging, which you surely do if it's your smartphone. The adaptability of wireless charging is another thing worth mentioning. Almost all devices that use this innovation employ the Qi standard, with the unique exemption of the Apple Watch.
As a result, you can eliminate those lingering connections in favor of a single charging dock that can handle many devices. To provide their customers with even greater convenience, manufacturers occasionally develop unique wireless charging protocols. When the iPhone 12 was released, Apple modified the MagSafe specification. To ensure that wireless chargers can fit and provide power as well as possible, they use several magnets. However, if you prefer not to, you aren't required to limit yourself to buying Apple's chargers because other manufacturers have also created a wide range of accessories that support this technology.
Can I charge other devices with an Apple Watch charger?
The answer is "Yes," if your device supports MagSafe charging technology. This makes the Apple Watch charger capable of charging all your devices that are Qi-certified such as your iPhone, AirPods, and Apple Watch.
Why You Should Trust Us
There are numerous charging docks being advertised on the market. Each one is priced differently and designed with different features. Due to the variation in charging speed, features, models, performances, and price of these Apple Watch chargers and stands, it can be hard to select the right one, so we have gone to different well-accredited tech sites to conduct in-depth research to choose quality, effective, easy-to-use, well designed, secured, and reasonably priced Apple Watch Charging Stands for you!
How We Picked
There are certain factors you should take into account while choosing an Apple Watch wireless charger. The majority of Apple Watch stands might also handle your Apple Watch recharging pad or feature their built-in charging features. When compiling our list, we noted which charging docks had built-in power and which required a separate charger. If you travel frequently, you probably want to consider purchasing a stand that you can bring with you everywhere you go and that will also look beautiful on your nightstand or desk. To identify the top Apple products on the market today, we analyzed a variety of evaluations from reliable websites, including Wirecutter, Lifewire, and PC Mag.
In our article, you will discover Apple Watch chargers and stands in a wide range of structures, with a set of advantages and at varying price points. All of these products have earned an average user rating of no less than 4 out of 5 stars. In addition to these requirements, we preferred stands that can also support the watch in portrait or landscape for Nightstand mode, which converts the Apple Watch into an alarm clock when it's docked, as this makes time more readable. However, we didn't make this a necessity since the Nightstand mode functions in either mode. To make sure they would power any Apple Watch efficiently, we only looked at docks that featured MFi-certified charging panels.
We looked for chargers that had an MFi-approved charging surface and an inbuilt battery. We did not pay attention to conventional power packs that necessitate the use of an Apple power cord because they add clutter and are only cost-effective if you already own an alternative Apple Watch charging cord. We ideally sought stands with the ability to charge your iPhone, AirPods, and other wireless headphones, in addition to your Apple Watch. A trio of necessary devices can be kept tidy and prepared thanks to its versatility, rather than having to contend with an additional charger. The options that are reasonably priced need the Apple Watch's built-in charger to function.
Care and Maintenance
When charging your phone while on the road, make sure it is correctly hooked up to the charging dock to prevent your gadget from falling off in the event of road bumps. Even if a charger stops providing power to your smartphone when it reaches 100%, it will still top it off throughout the night. As a result, the charge on your iPhone fluctuates continually between being fully charged and just a little bit below.
Your phone may experience greater temperature swings as a result of these cascading charges, which over time may cause capacity loss. According to a battery information website from Apple, li-on batteries' strength slowly decreases with every charging period, and it starts to decline after a set number of recharges.
By proceeding to charge your iPhone even after it has been completely charged, you are prolonging the duration the device stays connected to the charging dock and hastening the deterioration of its performance. A lightning bolt will pop up in the battery logo in the notification center, or a sizable battery icon will be visible on your home screen once the iPhone is charging. If you have a variety of Apple devices that can charge wirelessly, our selection with MagSafe is the best all-in-one charging option. Your iPhone, Apple Watch, and AirPods can all be charged simultaneously, and it makes it simple to supply power to each device. Even when left on its charging stand, the Apple Watch cannot be overcharged.
If you have a habit of leaving electrical cords scattered on the floor or in the car, you could keep them tidy by looping them neatly together on a spiral wall hanger. This is the most effective technique for drawing prominence to charging dock wires or cords that are brightly colored.