The Best Android Tablet for 2023
Android tablets bridge the gap between an Android phone and a computer. Get one today!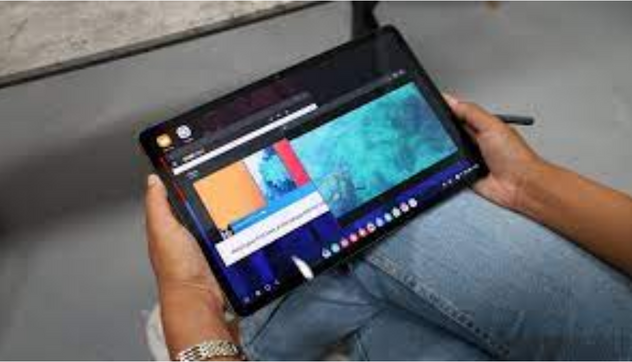 Android tablets remain a notable competitor to iOS options. While they are pretty affordable, it's not much of a compromise to say that you are using an Android device because they still pack a punch.
Just like iOS, they are also used across different device types, from watches to phones to tablets and even laptops, and in this article, we will be looking at the best Android tablets you can find in the market.
While we don't have as many options in android tablets as we do in Android phones, the existing ones offer a decent variety for people who want a "bigger android phone."
How We Picked
Size/Weight/Thickness/Portability

Android tablets are distinguished mainly by their size, but that doesn't mean we're returning to the days of the ENIAC. The size and sleekness of the tablet are important because they need to fit fashionably into our hands and bags.

Power and Battery Life

With constant electricity, the idea of a long-lasting battery might not be considered important, but it is when you are going on a journey or using it in a place without easy access to an electricity supply.

Storage Capacity

There are so many things to save on your device these days, and you don't want to be found lacking when you want to save your favorite documents on your device.

Cost-Effectiveness

The price of the Android tablet also matters because nobody has all the money to overspend on a piece when he/she can get better features at a cheaper price.
Who This Is For
For a lot of people, a phone is too small, and a laptop is a tad bulky. So they go for a tablet that can serve their needs for a portable device that can be used sufficiently in many scenarios. It is widely used by gamers who want extra gameplay space, professionals who carry out their work in transit, and entertainment seekers who would rather watch their movies anywhere.
Android Tablet vs. iPad
While iPads have more popularity, others prefer Android tablets, and there are many reasons why that is so. The biggest difference between the two is the software on which they operate. Android tablets use the Android operating system from Google, while iPads use iOS from Apple. 
Android tablets multitask – allowing you to do many things on their device at once and multi-connect – allowing you to connect with any other kind of device in any platform while iPads are deeper with greater performance and productivity, featuring the best apps for any function or game you desire. Android tablets are cheaper and have a longer battery life but they are less secure than iPads. 
In summary, we can argue that Android tablets have more reach and versatility but lack the depth of the iPad.
Are Android tablets worth it?
Android tablets, especially the ones listed here, are definitely worth the price you are requested to pay for them, so if you are considering getting one, you should go ahead. 
Why You Should Trust Us
With the myriad of Android tablets that exist in the market, it only makes sense to engage an independent, unbiased report that looks at every important and seemingly important feature and tells you the importance of these features so you can make a better-informed decision.
How We Picked
We started by looking at the externals and physical attributes. While most people may not bother with the specifics, it is necessary to know the size, weight, and screen size. This will help you determine if it serves the purpose you have in mind for the tablet you intend to buy. This is especially important as you move around with it. You don't want something bulky that will increase your luggage weight, you want something that is inconspicuously there.
The screen size and resolution are especially important if you are using them for media, entertainment, gaming, or graphics. Audio and camera quality are also important for these use. The right Android tablet has a crystal clear sound that enables you to pick out the tiniest of musical beats. For the camera, it wouldn't make sense to have a bigger mobile phone device that does not capture images as well as the mobile phones.
Next, we looked at the processing systems and how easy it is to use them. While the Amazon Fire that we listed might be an outlier because the Android Play Store is not native to the device, you can install it and continue just like every other tablet running on the Android operating system.
What would it look like if we reviewed the body and engine without going through very important features like the battery life and how fast they charge up when it's low? Some of the Android tablets we highlighted have been observed to get more than 10 hours of usage – depending on what you are using them for. The storage capacity also determines how many files and documents you have accessible to you on the road.
Finally, we have the externals that exude good feelings that you cannot express. The design and style. Some devices have some very beautiful user experience that makes operating them very seamless and enjoyable. Almost addictive. We also know that some of these devices might be the best thing since sliced bread, but if they are beyond your budgetary reach or give you an extremely icky feeling when you are paying for them, we consider the money you are paying for them.
Care and maintenance
Apparently, you cannot dip your Android tablet in water to keep it clean. What you should do is apply a sanitizer to a wipe or soft towel and use it to clean off the dust and dirt that gather in different parts of the tablets. You have to be extra careful around the ports so that it wipes them very well.
While charging, do not leave it to keep charging after it's full, and be sure that you are using a good charger connected to the right power source voltage so that you don't encounter any power surges.
Physically, the greatest threat you have, apart from getting stolen, is breaking after it falls from a high place. To keep yourself safe, buy a screen protector and an external case for your tablet that will protect it even if it falls. A couple of these tablets come with keyboards from the manufacturer.
Lastly, download a cleaner app for your tablet that will help you clear caches, remove unnecessary histories, and delete unused apps. Top this off with a good antivirus app that will help you be on the lookout and remove any virus that may enter your phone from anywhere.