The Best All-in-One Computer for 2023
All-in-one computers win for their elegance, portability, and uncluttered aesthetics - spare yourself the trouble and get one now!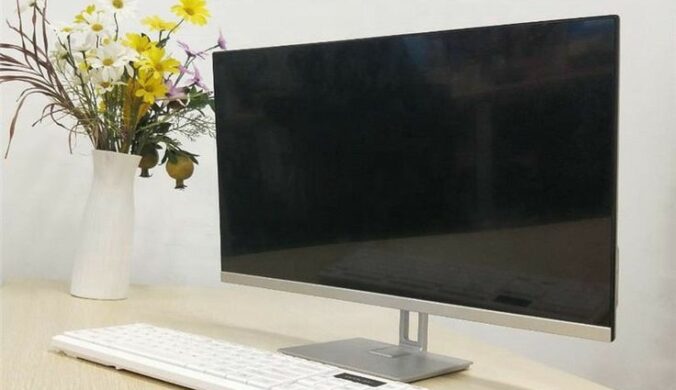 We are living in a technologically mobile era. At such a time as this, we naturally tend to develop an affinity towards gadgets, keeping this reality in mind as we run our day-to-day lives. In this era, it is not enough to just have a computer; the type of computer one has is of the essence.
We all embrace the importance of a standard desktop computer at school, at work, and at home. A standard desktop computer has a monitor and different computer components, such as speakers and system units, as separate units from the display. On the other hand, an all-in-one desktop computer has all these elements in one unit. Just to provoke your thoughts, which one would you prefer, and why?
The all-in-one computers' all-in-one compact design allows for easy mobility, reduces cable clutter, maximizes both desktop and floor space, and has a stylish design — all the reasons it might seem plausible to acquire an all-in-one computer instead of a conventional/standard desktop computer.
How We Picked
Hardware

It is crucial to consider the tangible aspects of a computer. The hardware dictates the user experience, such as the ergonomics and even performance, when evaluated based on the processing power, memory, graphics, and storage, among other hardware parameters.

Storage

It is vital to evaluate an all-in-one computer based on its storage capacity. This is where all the data is stored, including the operating system, the programs, and the files. Consider the HDD and SSD storage for a computer bearing in mind that storage and cost are intertwined.

Display Resolution

The resolution of the display determines the quality of the display. Typically, the higher the display resolution, the more beautiful and crisp the images can be displayed for a flawless experience when streaming, playing video games, or editing digital videos and pictures, among others.

Cost-Effectiveness

There are many all-in-one computers at the same price point, and it would be ideal to get the best computer within your budget. You may not need to get the most expensive computer to get a good one, but also note that setting a low budget may get you one that does not quite meet your needs.
Our Top Picks
Our Top Pick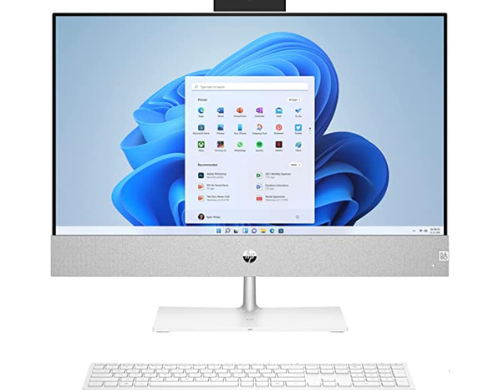 The HP Pavilion 24 AIO is within reasonable price bounds and has excellent features and functionality.
The HP Pavilion 24 AIO offers optimal performance compared to its more expensive counterparts. It is very powerful due to the AMD processor, which handles more demanding tasks than most of its competitors in the range. Its slim build and very light weight make it very easy to move around or reposition as needed. Regarding input and output, it is embedded with a 5 MP webcam. It is built with four digital microphones. These features make this AIO computer a quality device for video conferencing. It is designed to suitably consume media. It supports touchscreen functionality for convenience.
Looking for the best all-in-one PC on Windows OS? Look no further
Our Runner-Up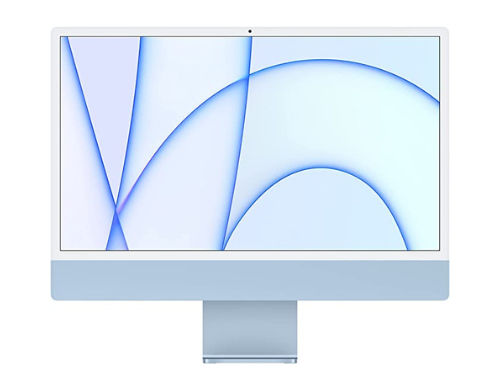 The 2021 Apple iMac 24 is an expensive brand that is worth every penny.
The 2021 Apple iMac 24" is the best all-in-one computer that operates on Mac OS. Its powerful M1 processor can handle virtually anything. It is thinner and more compact, making it aesthetically pleasing. It is also available in seven different colors, from which you can choose. Notably, it uses a wireless mouse and keyboard, and this design is aimed at reducing cable clutter. It has two thunderbolt USB-C ports, modern Wi-Fi 6 capability, and a crisp display resolution (4480 x 2520). It can smoothly handle intensive tasks.
For users that are big on Apple products, this AIO is for you and it guarantees excellent processing power
Most Cost-Effective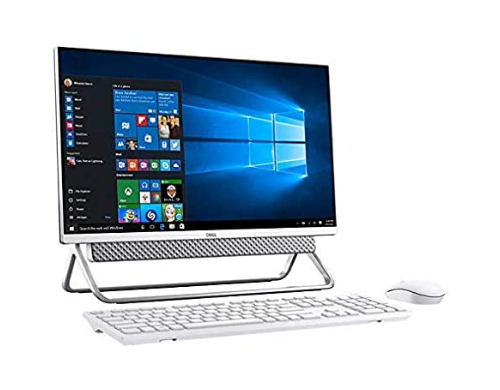 The Dell Inspiron 24 5000 is inexpensive and gets the job done perfectly well.
Considering the affordable purchase price, the Dell Inspiron 24 5000 AIO desktop computer reliably gets the job done. Notably, it offers high-quality audio output. It supports peripherals and connectivity for external devices using HDMI, USB-C/A ports, a headphone jack, an SD Card reader, and Wi-Fi 6 and Bluetooth 5.1 wireless connectivity.
This AIO desktop computer can reliably execute basic computer tasks
Everything We Recommend
Our Top Pick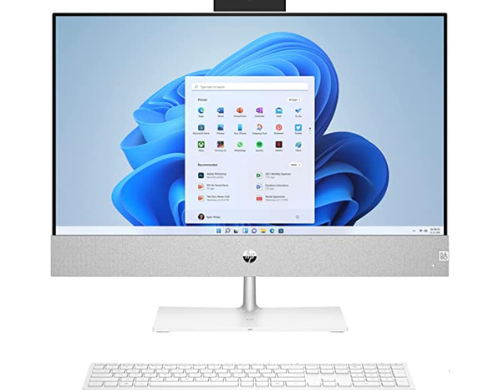 The HP Pavilion 24 AIO is within reasonable price bounds and has excellent features and functionality.
Our Runner-Up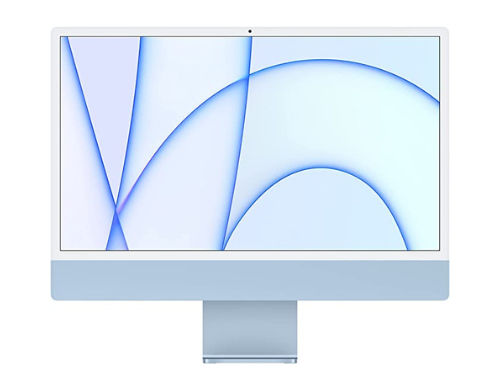 The 2021 Apple iMac 24 is an expensive brand that is worth every penny.
Most Cost-Effective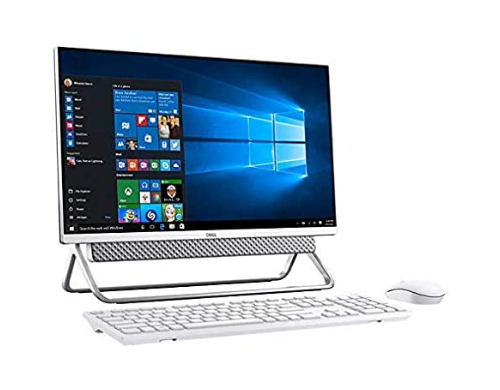 The Dell Inspiron 24 5000 is inexpensive and gets the job done perfectly well.
$839.99
Who This Is For
The products listed in this article are for anyone looking to get a desktop computer for their work, school, or home use but still desires uncluttered desktop and floor spaces because of fewer cables involved and a stylish element of computer design.
What exactly is an all-in-one computer?
In simple terms, an all-in-one computer has the display and other computer parts such as the processors, motherboard, speakers, etc. in the same compact housing, except for the keyboard and the mouse. On the other hand, a traditional or standard desktop PC has all these computer parts separately.
Is an all-in-one computer worth it?
An all-in-one computer is worth every penny. On the plus side, all-in-one computers have space-saving potential, there are fewer cables involved in the whole set-up, they are easily moved from one space to another, and they maintain a stylish design, making them aesthetically appealing. Notably, all-in-one computers make great media PCs.
Disadvantages of all-in-one computers
Compared to a traditional desktop PC, all-in-one computers have limited power, are harder to upgrade and repair, and are generally more expensive than standard PCs.
Why You Should Trust Us
Out of the large array of computers that have flooded the market today, we have found the best options for quality AIO PCs that accurately meet the users' needs and guarantee value for their money.
How We Picked
It is a daunting task to choose the appropriate all-in-one computer for you given the wide range of options available on the market today. To take this burden of choice off your shoulders, we have widely considered customer reviews from their experiences using this wide array of products. We used the reviews to map out these products based on different price points, designated uses, and the operating systems used in these AIO PCs.
We scoured different aspects of the computer to draw up a quality list of our top picks. The hardware of the computer is a factor put under consideration. Computer hardware entails the tangible parts of the computer. The hardware determines the user's experience and the computer's performance. For instance, consider the ergonomics of the computer. Other computer hardware components, such as the processor, storage, and graphics card used, affect the speed of the computer.
For the processors, we considered the clock speeds (in GHz) and the quad-core and octa-core processors for optimal functionality. Random Access Memory (RAM) stores data temporarily, and the more RAM the computer has, the more tasks it can handle concurrently, making it run faster. Another factor we considered was the type of graphics card used for a particular AIO PC, its number of cores, clock speed, and bandwidth. A graphic card is the part of the computer that deals with processing the graphics that are essential for gaming and multimedia. We also considered the display quality.
Generally, Full HD and 4K Ultra HD informed our selection criteria to ensure full, colorful, and crisp images on display. The AIO PCs are compact in design, durable, and aesthetically appealing when set up for use. Notably, these computers come with various ports and connectors. We considered Wi-Fi connectivity, USB, audio connectors, and other peripherals. As regards pricing, there are many AIO PCs at the same price point. You may not need to get the most expensive AIO computer to get a good one. However, bear in mind that setting a too-low budget may get you an AIO computer that does not quite meet your needs.
Care and Maintenance
How to set up an all-in-one computer
Every all-in-one computer comes with a setup guide or manual. Setup guides are specific to computers. Be sure to strictly follow the guidelines laid out therein. Study the pictorial diagrams to aid your comprehension. Look out for sections that instruct you how to:
Conduct the first-time setup
Hook up peripherals
Set up cables and ports
Connect to the internet (Using ethernet cables or wireless cards)
Set up security and malware/antivirus
Install various software and programs
Create backup
Connect media devices, etc
How to clean your all-in-one computer
Cleaning your all-in-one computer could just be the secret to maintaining your computer's optimal functionality. Cleaning your AIO computer means cleaning all the parts of it, including the LCD display, keyboard, and computer cover. To clean your AIO computer, refer to the user manual. But general practice demands certain standard guidelines.
Do not use bleaching agents such as chlorine/ammonia-based solutions. Opt for non-abrasive mild cleaning solutions
Do not use Ketone type materials
Use a lint-free soft cloth to wipe surfaces
Always absorb the cleaner into the cleaning cloth. Never spray or pour any liquid cleaner on the screen display or keyboard directly
Preventing damage to ports and connectors
AIO computers come with connectors and ports like HDMI, serial ports, thunderbolt, and VGA connectors that should be properly taken care of to prevent damage.
Every connecting accessory device has a specifically designated port on your computer. Plugging a device into the wrong port may damage your device or the port. Always double-check that your connection is right, and if unsure, always refer back to the user manual or guide. When cleaning your all-in-one computer, rid the drives of any media and turn off your computer and any connected devices. Disconnect all power sources from electrical outlets. Also, disconnect from the computer any connected cables before embarking on cleaning your all-in-one computer.
Ensuring dust is removed carefully and regularly
Dust is a menace and a big threat to any electronic device. Dust buildup means overheating of your computer's components. It is a recommended practice to carefully and regularly rid your all-in-one computer of any dust. Dust may settle on the LCD and the keyboard. Regularly wipe the dust as directed in the user manual. Use compressed air to drive away the dust that has settled in hard-to-reach areas, such as in between the keys of the keyboard.