The Best Alexa Speakers for 2023
Play your favorite playlist anywhere with a simple command.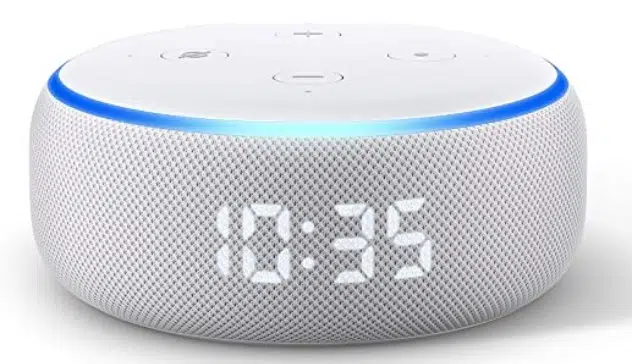 The recent surge in the popularity of Alexa has driven many people to explore top-rated Alexa speakers available on the market. While it doesn't hurt to explore speakers outside the Amazon ecosystem, opting for Amazon's Echos ensures a seamless user experience.
The benefits of Alexa speakers are numerous and astounding. They can provide you with information, assist you with ordering groceries, help you set timers, play various music files, and even serve as the central control point for your evolving smart home.
However, finding the finest Alexa speaker for you can be difficult these days, especially if you want to set up a power-based Alexa speaker. For your convenience, we've analyzed the top Alexa speakers available right now.
How We Picked
Listening Capabilities

Your speakers must have a reliable microphone that can easily pick up your voice prompts. We only looked at speakers that responded well to voice commands from various distances, voice volumes, and both with and without background noise because no one wants a speaker with poor listening capabilities.

Sound Quality

You'll need a speaker with better driver arrangements to enjoy Amazon's 3D Audio format. Alternatively, you can connect your home speakers to the Alexa speaker for even better audio quality. However, we aim for reasonable sound quality given the speaker's size and price.

Ease of Use + Set Up

Another admirable feature of any device is how simple it is to use or set up. All Alexa speakers require additional setup steps, which can complicate the process. We made sure that speakers reviewed work in a pretty straightforward manner.

Price

While there is no monthly fee for using Alexa, all of the other accessories are not free. We chose speakers that include a smart hub in the price and those that provide all of Alexa's benefits at a much lower cost.
Our Top Picks
Best Pick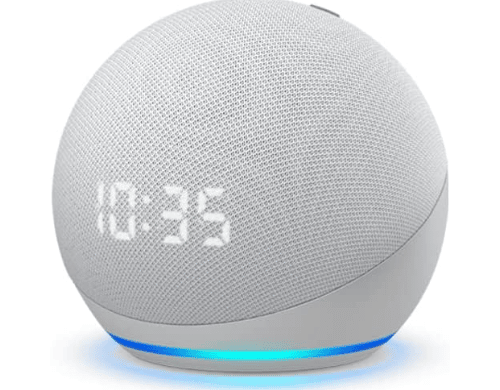 Balanced bass throughout the home.
A quality speaker that delivers crisp vocals.
This is the best speaker if you want to stay in the Amazon ecosystem. It has a sleek, petite design that complements any setting, making it one of the best smart speakers.

It has clear vocals and a well-balanced bass. You can also use compatible Echo devices in other rooms to fill your entire house with music, radio stations, podcasts, and other audio content using its multi-room music feature.

Runner Up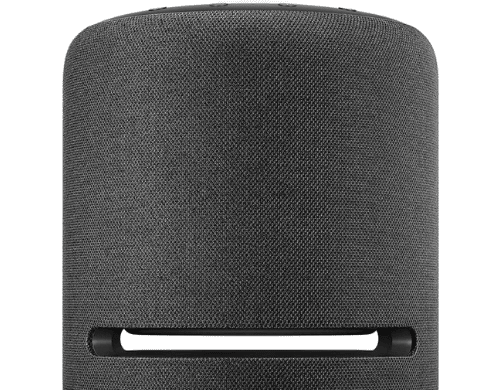 Perfect for Amazon 3D Audio format and multi-room listening.
Speaker featuring the five-driver arrangement.
Echo Studio creates a three-dimensional, immersive atmosphere while surrounding you with studio-quality music in all directions. To learn more about your favorite music, ask Alexa to play a song, artist, or genre. You can also control connected smart home equipment with your voice, monitor the weather, and set alarms.
Most Cost-Effective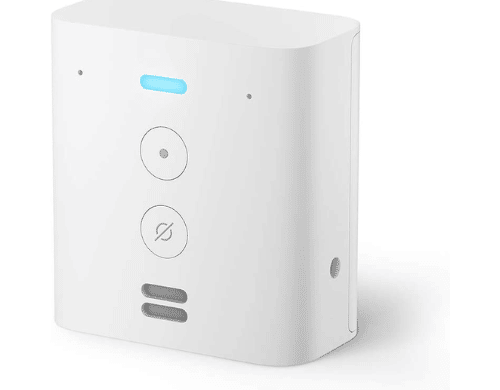 Keep your entire home in sync.
Allow Alexa to assist you as you make hands-free calls to friends and family who have the Alexa app or an Echo device.
To operate compatible smart home devices, check the weather, add items to your shopping basket, conduct finger calls, and receive immediate information, simply plug it in and talk. Alexa is pleased to make your day a bit better, whether it's across the hall or right around the corner.

To set timers to regularly send out reminders, use your voice. Inquire about the start and end hours of movies, restaurants, and athletic events.
Everything We Recommend
Best Pick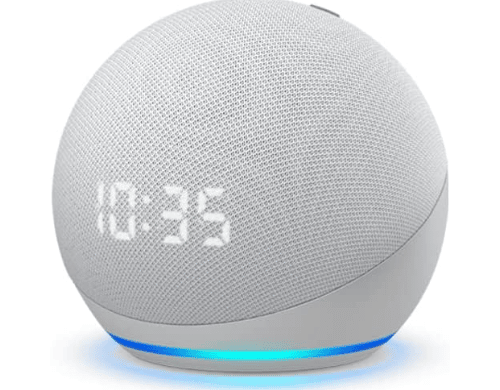 Balanced bass throughout the home.
$34.96
Runner Up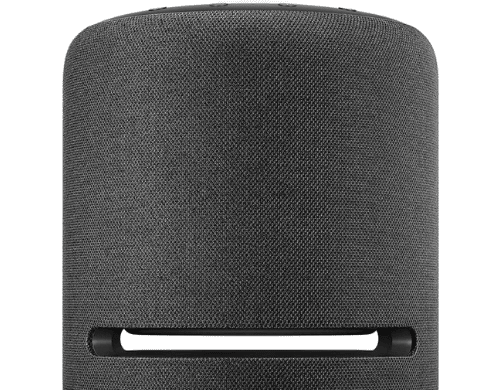 Perfect for Amazon 3D Audio format and multi-room listening.
$174.99
Most Cost-Effective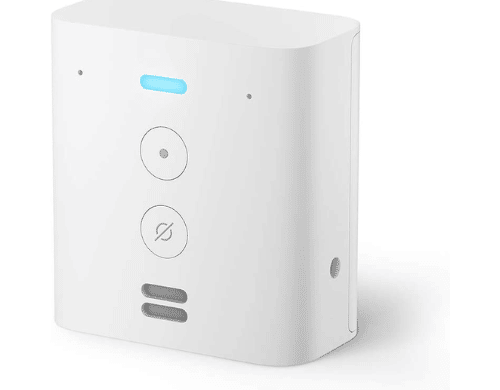 Keep your entire home in sync.
Who This Is For
Alexa speakers are for anyone who takes home audio seriously and wants to add an Alexa-powered smart speaker into their home, whether for the first time or when adding to an existing setup.
Echo vs Alexa – What's The Difference?
Except for some of the devices' amazing screen displays and built-in touch capabilities, echo devices are really simply speakers. On the other hand, Alexa is a program that was designed to be intelligent. It can link to all of your smartphones and allow them to communicate with one another.
The cloud-based AI virtual assistant Alexa is a product of Amazon. Amazon's Echo range of smart speakers includes Alexa AI right out of the box. In other words, Alexa is software, whereas Echo is hardware.
Echo was originally intended to be a speaker, but as time went on, it changed from being a simple launch to a show [Echo show] with features that let it play Netflix shows and movies, browse the web, pulls up step-by-step recipe instructions with photos, integrates with smart cameras around the home (like baby monitors), and more. photos, integrate with smart cameras around the home (like baby monitors), and more.
However, Alexa is capable of much more, including voice interaction, music playback, to-do list creation, news streaming, alarm setting, podcast and audiobook listening, recipe reading, real-time information like traffic updates and weather alerts, and even shopping by instructing Alexa to buy certain items, like groceries.
Is it Worth the Splurge?
It is quite practical to have these speakers all over the house if you are a music enthusiast and listen to a lot of music. You'll be able to take advantage of all the other functions as well, some of which are very useful if you have a lot of wifi outlets, lights, and other items. But the music is the actual reason to have these all over your house.
Additionally, you would be able to ask Alexa to shuffle your music collection, which is far more convenient than having to manually pair a Bluetooth speaker, open the app, and begin playing. Consider utilizing it as a safety measure if you have children or a baby at home.
Because Alexa has a built-in guard feature, you can tell her to turn it on when you leave the house and if you hear any strange noises that might indicate a visitor.
Why You Should Trust Us
Alexa speakers can seem like a confusing mishmash of product options, with different models available for every purpose and use. Are we going to give you the same technical information and details that everyone else does? Of course not! We will focus on the value that you can get from Alexa speakers and voice services, not just recommending what speakers are best for enjoying Alexa hands-free.
How We Picked
Features we took into consideration include:
Listening Capabilities
These Alexa speakers are always-on listening devices but designed to listen only when called upon. The device can hear everything you say within the range of its far-field microphones, but before it begins recording anything "Alexa" is the default wake word. It waits for its wake word.
Once it hears that, it interprets everything that happens in the next few seconds as a request or a command.
Sound Quality
We took into account how they sounded and selected those with strong tones. Due to a feature known as Automatic Space Adaptation, they sound rather clear at high volumes and have the capacity to dynamically equalize their sound based on the ambient conditions in the room.
Durability
These Alexa speakers are quite powerful. To withstand any fall, heat, or rain, they were made of plastic and metallic materials. 98% of the packaging of the device is made of wood fiber-based materials from responsibly managed forests or recycled sources.
Design/Style 
With an LED light ring around their base, they offer a novel, diversified, and approachable look that unquestionably attracts attention.
Ease of Use + Set Up 
After you set up the first speaker, these speakers are really simple to use and install. All you need to do for the others is plug them in once you've set up one. You may change Alexa using an in-app feature to whatever name you wish, like Computer, Zorro, and a few more.
Battery Life
The well-built, battery-operated Alexa speakers are portable and can be used outside because they are well-built. Although this can vary based on your usage habits and preferred volume settings, the battery life can last over 10 hours on a single charge, making them ideal for long listening sessions.
Price 
We also took into account the cost. We discovered that if the price difference isn't significant, sometimes less expensive speakers will prevail. Then, additional client input helped us confirm that each price was accurate.
Care and Maintenance
You shouldn't place your Amazon Echo speaker in certain locations in your house, such as close to a window. Try to position your Echo device as far away from the toilet as you can if you absolutely must have one in your bathroom. Ensure that it is safe and close to a power source.
Avoid placing your pricey Echo gadget near water if you want it to remain intact. Place it on a separate counter, such as a kitchen island, or tuck it away in a corner as an alternative. Avoid placing your Echo near windows because doing so could allow others access to your smart home's components.
A light ring should be positioned in a prominent location that is far from the sink and windows.
Before cleaning, unplug your Alexa speaker to prevent electric shock. To prevent damage, lightly wipe the touchscreen. Avoid using a rough towel or cloth that can scratch the gadget. Avoid spraying liquids onto the gadget directly.
Using a microfiber cloth, cleaning wipes, or a mix of rubbing alcohol and water to clean your Alexa speaker is simple.