The Best Alexa Device for 2023
The latest technology when it comes to convenience in your space!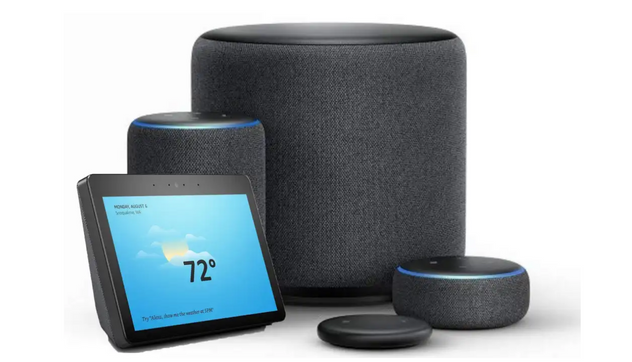 Do you love the idea of transforming your home into a smart one and filling it with clever Alexa-connected gizmos but don't know where to start? You better be happy because you have come to the right place! Alexa is a voice-controlled digital assistant that turns words into actions! You can interact with Alexa through smart speakers and displays, using voice commands or any smartphone app on your digital device (smartphone). Whether you're looking for an Alexa-powered smart speaker for jamming to music or rather keeping up with podcasts and the news, or even controlling the smart devices in your house, we have picked out the best model for your needs. Creating a smart home is a lot simpler than you might think! You can make things you do every day much easier! May it be the basics like setting a few alarms or timers, or more complex commands like changing the temperature or controlling your lights via smart home gadgets.
We have rounded up our top picks below, so look and see what fits your needs best!
How We Picked
The sound quality/audio output

At the end of the day, Alexa is an assistant that you will need in your daily life. The fact that you will need to play music and receive calls now and then demands that you have a gadget that can fit all the needs you ask for. It beats common sense to pick an option that is not good in quality since you will use it more often than you think.
This is like an extra arm that you need daily so make sure it is worth the money!


Ease of use + set up

You will most likely prefer a device that is easy to set up and use.
To be honest, none of us prefers a device that is overly complicated when it comes to setting it up. The options we have offered you below are easy to use and set up. This will give you an easier time, there will be no need to call a professional to set up your Alexa device.


Voice command efficiency

We all know and can agree that the efficiency of an Alexa Device depends on how well the voice commands can be interpreted. It is rather annoying to keep repeating the same command repeatedly. You will want a device that has high efficiency when it comes to the interpretation of voice commands.


Price

Everyone has a budget to spend and a limit to check. It would be a rip-off to sell you sub-standard goods that are not worth their quality on this list. We took the time to go through and test plenty of products before coming up with this final list of top-rated products in each category.
We guarantee that there is something for everyone on this comprehensive list of Alexa devices.

Who This Is For
This review is meant for anyone and everyone looking to purchase an Alexa device as we speak. If you are looking for convenience and ease when it comes to assistants in your house, then this is the list for you!
Alexa vs Echo – what's better?
The Echo, as you may refer to it, is the name of the original version of devices that support Alexa. Take an example of a gas station selling gasoline but with a different brand name compared to another station selling the same product. Alexa is a versatile assistant that is now compatible with plenty of devices, on the other hand, Echo devices must have Alexa as the primary assistant.
Can it be integrated with other smart devices in my home?
The short answer to this question is a big resounding YES! In essence, what is the goodness of technology if it is not versatile? We are happy to let you know that Alexa is compatible with plenty of electronic devices of the new age! This will mean that you can control almost every aspect of your household in the comfort of your house or couch!
Why You Should Trust Us
We understand how frustrating it can be to pick an appropriate choice that suits all your needs when it comes to such a device. Therefore, we have taken the liberty of testing out these top-rated devices to find the right one for you!
How We Picked
Sound quality/audio output
Sound quality and audio output must be the number one factor to consider on this list. You will want a gadget that gives you the absolute quality of sound that is clear and unmistakable. Putting in mind the fact that you might connect this Alexa assistant to another device, the clarity of sound will be or rather should be among the top factors that you consider before the purchase.
Size + weight
Most if not all Alexa devices are rather light in weight. This is because these devices are meant to be more portable than the other speakers or Bluetooth speakers that you have in your house. These are the type of speakers or gadgets that you will want to carry around everywhere because they make your life much easier.
Design/style
This depends on what you prefer when it comes to the general outlook of the gadget itself. Some are maximized and designed to fit in small spaces while others are designed with a stylish look in mind.
Battery life
The battery life of your device will determine how long you can use the device without charging it. Are you looking forward to a long trip with your family or friends? Then you will need a long-life battery that can last you for hours. This will save you the disappointment of having to pause the entertainment.
Voice command capability
How easily can your voice assistant pick up commands? It is rather annoying to repeat commands now and then. As such, you must pick an option that guarantees you a good response to commands.
Ease of use
A voice assistant or rather an Alexa device should be easy to use and set up. This is the sort of device that you can set up on your own without any help from a professional. The interface should be customer friendly, and the controls should be easy to understand.
Ease of set up
How easy is it to set up the gadget that you purchase; will it give you a headache or will it give you an easy time? Setting up one of these devices should be as easy as connecting an external output device. It is not an overly complicated process, and it should be easy for you to follow the listed instructions to have a fully functional setup.
Warranty
The warranty that comes with your product guarantees you the quality of the product that you get. It means that you can call or rather contact your manufacturer in case the product that you purchase malfunctions within the stipulated time.
Care and maintenance
How to keep clean and how often to clean
Keeping your Alexa device clean is as easy as avoiding a build-up of dirt on it. You will want to clean it as often as you clean your house but in an appropriate method. Use a damp cloth to wipe the outer plastic or fabric parts of the device carefully avoiding any dripping of water into the device. If this is not possible, then opt to use a blower or a dry cloth to wipe your Alexa device.
Where to display
These devices are best displayed in open spaces such as a table or countertops. The major point here is to place it somewhere you can enjoy the sound of music and a place that also allows your voice commands to be heard.
Most people place these devices on their nightstands where voice commands can be easily heard and executed.