The Best 4K TV for 2023
Step up your viewing experience by switching to a stylish 4K TV.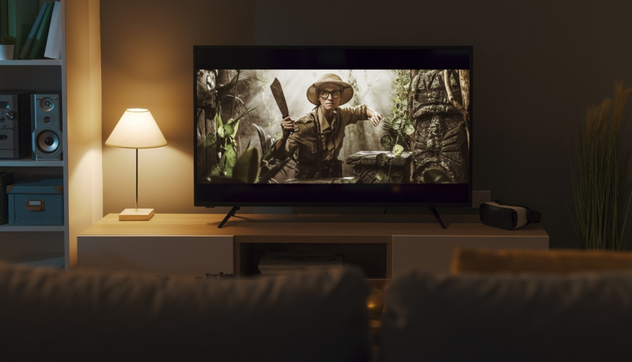 A lot of films, music videos, games, and similar content are now shot in Ultra HD resolution. Unlike regular HD televisions, 4K TVs provide sharper images, making them ideal for any content shot in 4K. 4K TVs have a 3840×2160 pixel resolution, allowing you to enjoy out-of-this-world cinematic experiences by providing more bright or darker colors than those of a regular TV.
However, if you can't figure out what functionality or technology you want in your 4K TV, you may become perturbed. With so many options available, you can end up buying a TV that does not meet your needs. With this in mind, our guide focuses on simplifying the process so you can pick the right one.
How We Picked
4K Resolution and Output Quality

A TV can only qualify as 4K if it offers a 3840x2160 screen resolution. At this resolution, you get sharper images — sometimes four times sharper compared to HD televisions. We only reviewed TVs that meet this threshold.


Color Gamut and Contrast Ratios

Color gamut is simply the range or number of colors that a television can display. The contrast ratio describes how bright white and dark black can become. These two factors have an impact on image accuracy and quality. As a result, choose a TV with a wide color gamut and high contrast ratios.


Ease of Use and Setup

Setting up a TV should not be rocket science unless you need it mounted on the wall. Besides simple controls, ensure that you pick a TV that comes with all accessories so you can use it right away or as soon as you are ready.


Price

TVs in general are not cheap. It is critical to always choose something of high quality while staying within your budget. For variety, our list includes TVs at various price points.

Who This Is For
If you want to transition from your poor viewing experiences to high cinematic effects, then 4K TVs are the best option for you. The picture quality is detailed, dark, or vibrant depending on your needs. Moreover, if you desire to have a wide viewing angle, then a 4K TV is the ideal choice for you.
4K TV vs. HD TV – which is better?
With so many acronyms in the digital world, it can be difficult to keep tabs on each one of them. A good example is a 4K TV and HD TV, which are very common and confusing terms. These two terms can differ depending on their resolution, viewing angles, and other features. To be precise, 4K contains 4x more resolution capability than HD. In this case, 4K has a resolution of 3840×2160 pixels while HD has 1080×720 pixels, which makes the images of 4K clearer than those of HD.
However, 4K includes two different versions, that is, UHD with 3840p x 2160p and 4K with 4096p x 2160p. The UHD version is used in 4K TV displays, while the 4K version is used for the projection of cinemas or movies.
For this reason, using a 4K TV is better than using an HD TV since it has more pixels and provides sharp images that are perfect for the human eye. Moreover, a 4K TV will always make the viewing distance seem closer while the screen seems bigger, even in small living spaces.
Is it worth splurging on?
As said before, the resolution of a 4K TV allows you to receive clearer and sharper images compared to most TVs. The vibrant colors and developed contrasts generated by 4K TVs are also breathtaking, thereby making it stand out. Moreover, you can gain access to popular film-making companies like Netflix, Disney Plus, Prime Video, and more to receive realistic viewing experiences. If you can afford a 4K TV, then it's worth every penny.
Why You Should Trust Us
Our review first considered over 1000 models on the market, until we settled on what's best for you. Moreover, we do not give any credit to particular brands whilst limiting the capabilities of others. In this case, we chose products that will help you enjoy only high-quality features and those that are within your budget.
How We Picked
Our methodology for picking the products was based on various features that help meet the desired effects for multiple consumers. Depending on the budget of most consumers, we chose to provide different products that are within most people's price range. This way, you can still enjoy 4K content no matter the cost. Moreover, our reviews were based on preferences and availability. For instance, if you have a small living space, then it is normal to go for a screen size that will fit the placement area. Therefore, our choices are of different sizes to allow you to choose the most suitable one.
Typically, a 4K TV needs to have a 4K resolution of around 2160p. For this reason, we chose to review TVs that provide a 4K resolution to ensure realistic and clear content. Moreover, depending on the model of the products below, each one of them features a different color gamut. Therefore, this allows you to choose between multiple display colors. Besides, you can also receive deeper darks or vibrant colors whenever you desire.
Considering all the comments from customers, we understand that there is nothing more enticing than having a user-friendly product. With that in mind, we can attest that all our picks are simple to use. This is all thanks to the user-friendly controls; most of them allow you to control the functionality of the TV using your voice. Moreover, our 4K TVs are also easy to set up including connecting any needed cables or using a stand or mount to keep them in place. To conclude, the refresh rate of the next 4K TV will depend on the price. This means the cheaper the TV, the less refreshing rate needed, and vice versa.
Care and Maintenance
You should always be gentle with your 4K tv since you do not want to destroy the special optical coating, scratch the screen or the pixel elements, and cause any fluids to enter the interior parts. For this reason, it is recommended to remove dust using a microfibre cloth or feather duster. Moreover, when cleaning the screen, you should sparingly use LCD-based cleaning products. All you need to do is to spray your microfiber cloth with the cleaning product and wipe gently.
Moreover, hanging or tangled cords are annoying and can even lead to accidents and damage. Therefore, you can purchase cable management gear, which will allow you to bind them together. Using an appropriate power surge is also important since it can eradicate the need to use complicated power adapters. This way, you can keep your space organized as well as prevent potential risks. If you want to display your 4K TV, you can connect it to a computer or normal TV. To achieve 4K effects, plug the DisplayPort or HDMI cable into your TV. Next, connect the other end of the cable to your computer. For completion, you can optimize the display in settings.