Get Cheeseburger Soup On Your Menu For National Cheeseburger Day
With National Cheeseburger Day approaching, we look at some modern twists on the classic cheeseburger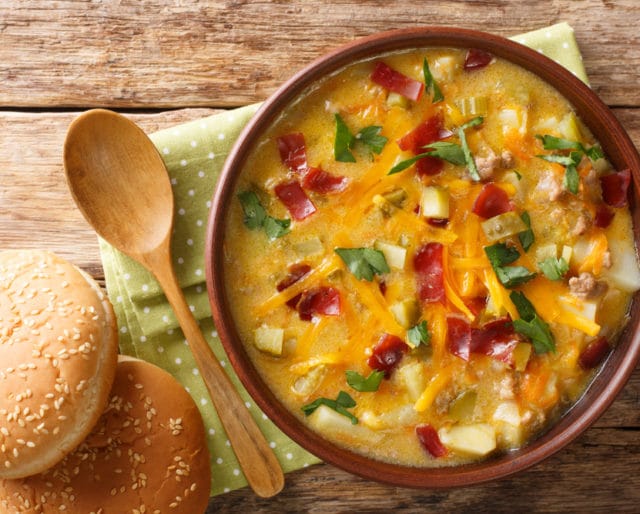 With National Cheeseburger Day coming up on September 18 our bellies have been rumbling at the prospect of a day dedicated to the mighty cheeseburger. But, let's be honest, we eat cheeseburgers pretty often in this country (14 billion a year) and so we were wondering how can we pay homage to the cheeseburger but also try something a little different?
Enter cheeseburger soup…
Here's a quick video from The County Cook showing how she makes hers.
You could perhaps have this as your starter, before a cheeseburger for the main course, making it the ultimate National Cheeseburger Day.
For a more detailed description on how to make Cheeseburger Soup, we recommend this Delish recipe, which gives a step by step breakdown of how to make it and a thorough list of all the ingredients you'll need.
What else can you do with a cheeseburger?
If cheeseburger soup doesn't take your fancy, then there's plenty of other options out there for you to consider. This video shows nine twists on the modern cheeseburger. There are some ideas here that we would never have thought of in a million years. Take a deep breath as you're about to see:
Cheeseburger spring rolls

Cheeseburger dough balls

Cheeseburger french toast

Bacon cheeseburger wellington

Cheeseburger meatball fries

Bacon cheeseburger meatloaf

Bacon double cheeseburger pop tarts

Cheeseburger corndogs

Sheet pan cheeseburger.
Give it a watch here, unless you don't like cheeseburgers, in which case this probably isn't the video for you.
That's about as much cheeseburger creativity as you're ever likely to see. However you decide to spend National Cheeseburger Day, we recommend you include a cheeseburger of some variety, even if it's just a good old fashioned burger in a bun with a slice of cheese thrown in. Keep an eye on National Today's National Cheeseburger Day page as we will be updating it with the latest cheeseburger deals as they come through. There's always a good deal available on National Cheeseburger Day so make sure that you don't miss out.